Summerbirds In The Cellar
Derek Lyn Plastic, For Ex Lovers Only, Attached Hands
Orlando, Fl • February 8, 2007
Jen Cray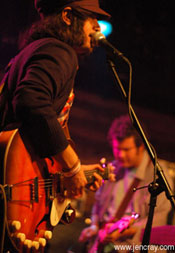 I've seen Summerbirds In The Cellar half a dozen times before and since they released their debut masterpiece With The Hands Of The Hunter It All Becomes Dead, and they have yet to disappoint. Not even with half of the band living eight hours away in Athens, GA does their incendiary performance falter. The four perfectionists who run the Summerbirds machine consistently put on the best show of any Central Florida band I've seen. Billed behind them on a late night gig at Orlando's BackBooth was Attached Hands , For Ex Lovers Only , and the band who could give SITC a run their money, Derek Lyn Plastic.
Electronic duo Attached Hands is the handiwork of Henry Maysand and also includes Summerbirds' heavy hitter Tyson Bodiford on drums and other tech toys. Best described as Computer Effect Noise Ambient, the pair of musicians switch off between traditional and nontraditional means of making sounds. As interesting as their music may be, it's about as entertaining as watching a dj spin.
Thankfully the sleepy feelings that began to settle in were quickly extinguished when the 80's pop rock that played over the sound system inspired a particularly hyper active patron to dance for us all. And with that one brave soul's display of carefree energy, the room was ready for For Ex Lovers Only. A good sized gathering of stage sideliners showed up to applaud the Indie Pop trio, who had a very 60's British Invasion sound- not necessarily The Beatles or The Kinks, but maybe how The Beach Boys would have sounded if they went a little further away from the beach.
The band was fun, and fresh and obviously haf already begun to form a following amongst their peers (the front of the stage was lined with members from other Orlando bands), however I have a new local band to bow down and praise, Derek Lyn Plastic. Reason #1: Frontman Derek wears an eye patch. Reason #2: Bassist Jeff (also known as Mumpsy) wears an absurd pompadour wig and a fake mustache. Reason #3: Guitarist jen wears a bikini and black stockings.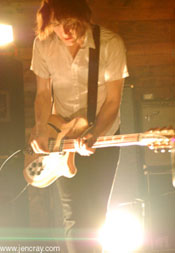 The 80's punk that this band produces is music to my blown-out ears. Thank the Gods that there are young musicians looking to bands like The Dead Kennedys, Gary Numan and Buzzcocks for ideas. Fuzz guitars, vocals that fly all over the room going swiftly from a deep, smooth singsong to a scream. They've got a dirty, unpredictable air to them that teeters on the edge of chaos, and most importantly it does not seem contrived. Unstable, gritty, beer-stained, amphetamine-driven punk rock. I'm in love!
The night was full of minor setbacks for Summerbirds. "Three things are wrong today. Anna Nicole Smith died, my dog has fleas and I left our merch in Georgia," announced singer/guitarist Brad Register.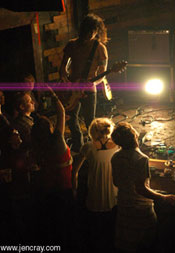 Despite these distractions, and a few technical slip-ups, the boys still impressed. They bring their own light set up, which adds a theatrical tone to their show that most bands wouldn't even think to include. When the white lights explode onto the concentrated band members, lost deep within the chord pyrotechnics of "Behold The Wolf" or "The Night Thief," these are the moments where SITC show just how far above the average they really are.
The tossed a few new songs into the mix off of their upcoming release ("If we ever finish it," Register admits), which sound equally as inspired as anything they've done previously. After a crowd-demanded encore the band closes shop. The time is 2am and for Summerbirds and their crowd of fans, friends, and family- the day is only just beginning.
To see more photos of this show, and others, go to [www.jencray.com](http://www.jencray.com/bands_live.htm).
http://www.myspace.com/summerbirds http://www.myspace.com/dereklynplastic ◼
---