Bonnaroo
The White Stripes, The Police, Wolfmother, Franz Ferdinand, The Decemberists, Kings of Leon, and many more
Manchester, TN • June 14-17
Jen Cray
Descending upon the 6th annual Bonnaroo Festival I felt as comedian Dave Attell felt, "like an alchoholic in a sea of potheads."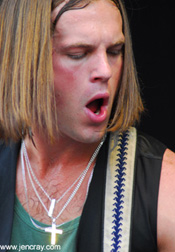 Having built its reputation largely on the jam band circuit, I- like most- associated the summer lovefest with hippies, the Grateful Dead/Phish conglomerate, and smelly folk artists. It was not a festival I thought I'd be attending. If anything, this summer, I wanted to hit Lollapalooza or Coachella… then the Bonnaroo lineup was announced and three magic words changed my travel plans: The White Stripes. To further justify my desire to take a road trip into the mountains of Tennessee, the four-day bill also promised The Police, Tool, Franz Ferdinand, The Decemberists, Rodgrigo y Gabriela, Kings of Leon and Wolfmother. Sure the usual suspects were scheduled to play- Bob Weir, Widespread Panic, Ben Harper- but these were not the names that made me drop everything and run for the hills.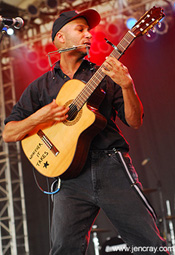 Getting to Bonnaroo on Friday morning instead of the opening Thursday afternoon meant that I had missed both Mute Math and Rodrigo y Gabriela- the latter of whom I'm told did a cover of "7 Nation Army" that was just insane! I hate that I missed their set, but at least I got to the cow pasture-turned-party town in time for Kings of Leon. Really, my first day on the grounds was mostly spent exploring. After KOL proved to me that the time I had seen them two years ago- when they bored me to tears- was indeed a bad night and that they truly are a good live band, I caught Tom Morello's new project- The Nightwatchmen- and the always showstopping Black Keys. The evening's headliners, Tool, were not allowing photographs (good thing I shot them three weeks prior in Orlando!) which I took as a sign from the festival Gods that it was time to head back to the hotel for some long overdue sleep (most attendees camp out, but I just couldn't bring myself to rough it that much).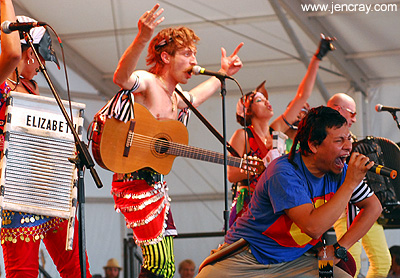 Saturday morning began with a press-only performance by Cold War Kids, Elvis Perkins in Dearland, and Alex Ounworth of Clap Your Hands Say Yeah. After enjoying the VIP tent performance it was a scorching day of stage hopping for me. Dr. Dog put on another fan-gaining set, and the Tori Amos-y sounds of Regina Spektor went over so well that even Spektor herelf seemed surprised.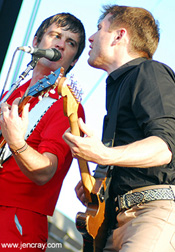 The set that most people are kicking themselves for missing took place in one of the small tents by the bizarre gypsy punk circus, Gogol Bordello. Their music doesn't do much for me, but my God what showmanship! I even immersed myself into a bit of the traditional Bonnaroo culture that afternoon, and enjoyed sets by both Ziggy Marley and Ben Harper (who did a cover of "Get Up Stand Up" together that, I must admit, was pretty special).
A late afternoon dance party with Franz Ferdinand was the day's real highlight, and watching tens of thousands of fans pogo in the dusty fields to "Take Me Out" was a memory forever etched in my brain. As fantastic as that performance was, the real buzz of the day was the night's headlining performance by The Police. All three original members, back on the road for the first time in 23 years, and they opened up with "Message In a Bottle." It doesn't matter that days into the tour there has already been rumors of strife between bandmembers, it doesn't matter that despite Sting's refusal to lose energy the band is rather dull to watch- seeing The Police is monumental!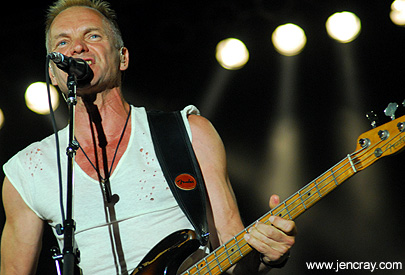 When finally Sunday rolled around- after many beers had been drowned, many more miles had been worn into my already beaten down Doc Martens, and my thrifty diet of cheese sandwiches and granola bars was causing my jeans to hang a little lower- I was not nearly ready for it all to come to an end. I'd grown to love the camaraderie of Bonnaroo. I found it absolutely astounding that in the extreme conditions of a brutally hot southern summer- with security that were laid back enough to enjoy the occasional joint with the fans (shhh, you didn't hear it from me)- I witnessed no incidences of anger or grief. I saw no one get hurt, or kicked out- I never saw anyone looking pissed off, period. It was the smoothest, happiest, most loving environment I think I've ever been in.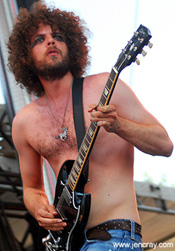 All of this love culminated in one big blowout of a final day. Pete Yorn surprised the crowd with a cover of The Smiths' "There is a Light That Never Goes Out." Wolfmother blew out the afternoon with a sweaty rock set that included a spontaneous jam. The Decemberists brought gospel legend Mavis Staples onstage for a song. Meanwhile, backstage: I watched Wilco's Jeff Tweedy take to some MLB-sponsored batting cages like a little leaguer pointing to center field; I ran into BMX bandit Matt Hoffman who was just out enjoying the festival; told Colin Meloy of The Decemberists that there was no need to apologize for the criticisms he had made about Orlando the last time he came through town; met Brendan Benson of The Raconteurs, who was just hanging out to see his buddy Jack play; and had a close encounter with The White Stripes that I will never forget- and I've got the photos to prove all of it.
And speaking of the tricolor duo, their closing set- as the sun went down on Manchester- brought even the tired crew members out of their holes. I never saw a crowd so large the entire weekend, it was almost terrifying in its size. For one of their first shows after a two-year hiatus the band, once more, lay all doubts to rest about their reign as the most important band of the last decade.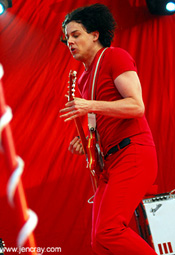 Challenge me all you want on that claim, but until you've witnessed the magic that happens when Jack & Meg get together onstage sans setlist (they've never used setlists, everything is spontaneous) you have no foot to stand on. For 90 minutes, during which time they ran through the big hits, a few soon to be familiar tunes, and always impressive cover of Dolly Parton's "Jolene," the festival belonged to them.
I may be biased in my account of Bonnaroo, but everyone's got that one artist that they came to see. When it comes down to it though, festivals are about taste-testing different artists, and sharing in the community of physical discomfort for the ultimate cause of having a unique experience that you can carry with you long after you've returned to your mundane day job. Days later, when you're still shaking dust out of your hair, and nursing your sunburnt skin, you can smile and say to yourself, "I was there."
To see more photos of this, and other shows, go to [www.jencray.com](http://www.jencray.com/bands_live.htm).
http:// ◼
---