John Romita… And All That Jazz
by Roy Thomas and Jim Amash
TwoMorrows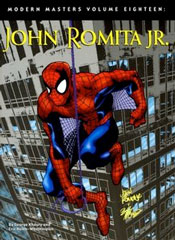 After a glowing Joe Sinnott tribute a few months back, Alter Ego mainman Roy Thomas and his esteemed collaborator Jim Amash are giving that other pillar of the "Marvel style", John Romita, the retrospective treatment. To that end, All That Jazz collects the relaxed, amiable but comprehensive longform chats that Amash and Thomas conducted with Romita over the years for Alter Ego magazine. You probably couldn't ask for a more humble and funny subject than Romita. Plus he remembers names and faces at the age of 77 uncannily well when I can't even recall who I ate lunch with yesterday. And did I mention that he's really humble and self-deprecating?
Which is f**king bizarre! John Romita, along with "Big" Jon Buscema and inker's inker Joe Sinnott, not only defined the house style of Marvel comic art for two, probably three, decades (until all the Image guys busted onto the scene), but Romita is virtually responsible for the aesthetics of Spider Man and most definitely the iconic images of the great majority of his most famous rogues (like the Kingpin and the Shocker) as well as supporting characters like Mary Jane Watson and Joe Robertson. Even more so than Spider-Man creator, Steve Ditko! No offense to the titanic Ditko (who even now Romita professes to be in awe of and respectful toward his vision of Spider Man), but when I think of Spider Man or the Green Goblin or Kraven the Hunter, I think of John Romita's more photorealistic likenesses. Most of Spidey's more famous poses, action shots, and pinups are pure Romita. When I think of the Spider Man covers that most captured my attention, pinned safely on comic shop walls when I was young, I think of Romita's Kingpin cover or the Mysterio ones or even the Spidey "drug" issues – they suggested a whole world of possibility. His style, as Romita himself admits, is more glamorous (and I think pop art) than Ditko's gritter aesthetic. It's a cleaner, simpler, more elegant style – remember the shots of Gwen Stacy dancing, the gleaming stickpin on Kingpin's cravat, the dapper pinstripes of Hammerhead? Man!
Anyway, back to the matter at hand. You won't find two more sympathetic or knowledgeable interviewers for Romita than Amash and Thomas – and it's very interesting to see the different tacks they take in their respective interviews. Thomas approaches Romita as a longtime colleague – so there is a little more of a familiar/conversational style – and with the eye/ear of a comics historian, whereas Amash, as an inker, approaches him more about the sum of his life and work. But both yield gold in their inquisitions. The anecdotes! Oh, god the anecdotes! Romita was deep in the Marvel Bullpen for decades, rubbing elbows with legends and seeing some of their most famous concepts and characters come to fruit – and they cover most of the big moments. Thomas asks for recollections on virtually every notable silver age and golden age face who had a cup of coffee with Marvel and miraculously Romita remembers something about every single one. Poker games, office politics, Jack Kirby, Stan Lee, Jim Shooter, the Playboy Club, romance comics, New York City, all these topics and more – it's just dazzling. I love the sense of New Yorkness that I get in these interviews with older Marvel and DC guys; it seems like a magical bygone fraternity. Romita discusses his mammoth influence and influential comic runs – Daredevil, Captain America, a Spider-Man run that culminated with him being art director on the title and keeping a firm hold on the "Spider Man look" – with an endearing Charles Schulz-esque humbleness. Even more so than Larry Lieber. It's amazing, the guy's good humor! And all the stories with his wife Virginia, another Marvel office manager/traffic director, are sweet as pie. Choco pie.
It's funny to hear him express bemusement about the popularity of Image Comics artists like McFarlane, it's touching to read him talk about his son John Jr. (another rising-star artist), and sweet to hear him still express admiration for greats and peers like Kirby, Kane, Caniff, and Everett. This book is like a masterclass in Marvel history, should be required reading for all "true believers" and Marvel office staffers. The original art sections are mind-boggling, just because everything Romita does is so clean and ornate and fucking good! The sections that contrast Gil Kane's original pencils with Romita's inks over them are quite eye-popping in that they show exactly how much of an iron hand Romita exercised in keeping the Spidey look consistent (poor Gil). And I think it's very interesting, with the work of young bucks like Frank Cho and Cliff Chiang coming more and more into vogue, advocating a clean line and glamorous square-jawed figures over stylized grotesques, that Romita's moment as a grand old legend of comics is nigh. Once again.
TwoMorrows: http://twomorrows.com
---