The Zinester's Guide to Portland: A low/no budget guide to visiting and living in Portland, Oregon
by Shawn Granton and Nate Beaty (eds)
Microcosm Publishing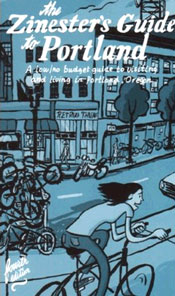 Let's face facts. Portland seems to be firmly positioning itself as THE city to live in here in the good ol' U.S. of A. You hear it from all sectors. There was a glowing article on Comicbookresources.com about how Portland is a "comics town" bursting at the seams with small presses and artists/writers seeking a creative environment. Richard Florida lauds it in his "creative class" books as a place to be for more independent-minded professionals. And it's always been a haven for left-field musicians – off the top of my head, members of Brian Jonestown Massacre, Shins, Cribs, Nire, Decemberists, Poison Idea and THE WIPERS have all put down roots in this city. Not to mention the famous Powell's Books and parks-a-plenty.
So in many ways, the Zinester's Guide is perfectly positioned to capitalize on Portland's white-hot popularity, while also serving as a valuable educational tool by turning on readers (especially those on shoestring budgets) about city highlights that won't be covered in travel magazines or websites. And it's locally written, instead of by professional travel writers given to fits of fabulism, so there's plenty of civic pride and boosterism, and even more overlooked hotspots. Let's put it this way, you're not going to snooze through it, like you would a Frommer's Guide. The book is broken up into easily digestible chunks by neighborhood divisions, with each chapter devoted to an area of the city and pointing out choice finds for books, records, clothes, food (all types), parks, and nightlife. Following that are sections on city sightseeing (parks, bridges, etc.), bike culture in Portland, the library (zing!), museums, and skateboarding. And a generous helping of "locals only" knowledge that will give you an edge on all the other tourists.
On the other hand, I have a bone to pick with aspects of this book. Let's begin with the title. The word "zinester" – it rankles. As a longtime "zinester" (*shudder*) myself, I'd be seriously annoyed if anyone ever used that term to refer to me, and I'd certainly never call Jack Rabid or Max Michaels or Dame Darcy or David Lee Beowulf "zinesters" to their faces; damn, man, it's humiliating and cutesy. The Guide, as well, mistakenly assumes a homogeneity on the part of the readership, with the overall tone a little too (I never thought I'd say this) chummy and slangy, detracting from some of the information delivered and breezing by too quickly in some cases, or focusing too much on au courant interests of the twentysomething punk set – bicycles, veganism, and yuppie hate, to name a few- at the expense of other things like museums and record shopping (goddamnit). And can we finally put the Pabst Blue Ribbon thing to rest? Jeez.
Look, I'm sorry, I got a little carried away there. It's a neat read. The contributors obviously put a lot of work into their sections and the line drawings that accompany the chapters are superb. And I really dig the size of the book, like a miniature digest (a little bigger than a pocket-size London A-Z, I think), perfect for carrying with you in a pocket or a bag without crowding everything else out. And very flip-friendly. Seems like a helluva town.
Microcosm: http://www.microcosmpublishing.com
---