Ultra Music Festival
Miami, Florida • March 28 and 29, 2008
S.D. Green
Tickets: $70 – $115. Parking: $15 – $35. Beer: $6. After party: $100. Being approached by some cheeky English bloke ten minutes after you arrive, asking where he can score some ecstasy? Priceless. So goes the decade edition of the Ultra Music Festival, the world's premiere electronic-dance music festival. It's obviously expensive, so if you've got a credit card, bring it. Otherwise, it makes sense that Ultra is only once a year, that way you can save up.
The WMC
Over the last decade, Miami's Ultra Music Fest has become the big coda to the Winter Music Conference – an electronic music event for industry networking with DJs, promoters, music distributors, musicians, and audio engineers from all over the world. Florida is about as far away from the electronic music hot spots like Ibiza or Berlin as you can be, so a festival of this size going on for this long in Florida got my spidey senses tingling. I've heard friends talk about the Winter Music Conference but never bothered to make the trip until a cousin from Jamaica suggested a rendezvous at the halfway point between Orlando and Kingston. It was going to be a cowboy mission. I was game.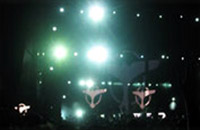 While the Winter Music Conference covers everything from promotions to video programming, Ultra focuses on the music, with a comprehensive mix of Ibiza, drum and bass, trance, mashups, house, techno, and breakbeat. Some of Miami's most famous clubs like Crobar, Space, Mansion, and B.E.D. hosted their own events DJed by Ultra's illustrious guests, and felt justified charging up to $70 to hear Armin Van Buuren spin trance platters. When you consider that many of the artists at Ultra's 200 world-famous DJs performed sets at the local clubs throughout the week, $100 admission is a steal.
Justice
Bicentennial Park was set up like a circus, with seven tents ringing the grounds, and a massive main stage in the middle. It felt like a circus too with fire dancers, silver women on stilts, and a cyborg shooting fog coming from a guy's wrists. Outside the main gate, it was part rave, part hipster convention, and part Halloween party. Captain America grabbed his tickets from the will-call window and two girls dressed as Bjork in Rainbow Brite costumes bought water from a street vendor. I wasn't about to be be distracted by all that. My objective on this mission was to see Justice perform, then go with the flow and take in whatever else caught my attention.
The French duo of Gaspard Augé and Xavier de Rosnay are more famous for being clowned by Kanye West during the European MTV Awards than they are for their music. The flagship act on Paris' Ed Banger Records, Justice is to Daft Punk what punk is to rock: a derivative that strips the original down to its bare bones and leaves it naked, primal, and totally awesome.
After ping pong-ing from bumper to bumper on I-95, and panicking that I would miss their 8:30pm set, I strolled onto the park grounds and up to the main stage as the pulverizing beats of "Let There Be Light" from their debut album rumbled out of the phalanx of speakers lining the main stage. In fact, from where I was standing just inside of the security barricade, the DJ booth loomed up about 15 feet and made them look every bit like the fair judgment of God their name implies.
They performed a breakneck DJ set and did their best to connect with the audience in spite of the huge stage. While mixing in their own material, they managed to play both "Pony" by Ginuwine and David Bowie's "Modern Love," revealing a bit about the precedent they have for crafting catchy and hook-driven electro-funk. I defy anyone who hears Justice's gurgling, fuzzed out funk to stand still. The only disappointment was that the visually expressive duo, with awesome videos for both "D.A.N.C.E." and "We Are Your Friends," didn't have better visual accompaniment than curtains with flashing light bulbs.
Rabbit in the Moon
Next I went to the "Rabbit Hole" to see Tampa legends Rabbit in the Moon. I'd never seen Rabbit in the Moon before, but they are legendary for their live shows. The spectacle is all about Bunny, Rabbit's pomp and artifice, who had more costume changes than Mariah Carey at Madison Square Garden and more props than David Copperfield. The music, a moderately groovy blend of house, breakbeat, and trance, wasn't earth shattering. Bunny did his best to dazzle the crowd as he pranced the stage in what looked like a Lord Zedd from Power Rangers costume. Bunny brought a member of the audience on stage, put a welding mask on him and asked the crowd "Should I kill him?" To appease the techno gods (and the Home Depot gods, I'm sure), he put a sander to the dude's face and shot sparks into the audience. Their set ended with an explosion of red confetti and the audience was showered with $1,000 Hallucination bills with Bunny's face on them. I tried to buy a cran-vodka with one. The bartender was not amused.
The irony of the festival is that it takes a bit of planning to catch everything you want to see. With so many artists on the bill, Ultra can be a little overwhelming. Planning your day is a bit like trying to program the Bright House cable remote for the first time. By 11pm, I wandered back to the main stage because my friends wanted to see Táesto. I stood through the tail end of his trance-inducing (and I'm not sure that's a good thing) set and didn't realize Canadian electro-funkers MSTRKRFT were playing at the Dance Rock stage. Here's where the irony comes in – if I had difficulty catching all the acts I wanted to see while I was sober, I can only imagine what it was like for partiers who emptied their medicine cabinets before heading to Bicentennial Park. So who did I miss? Despite seeing Carl Cox twice, I missed The Bravery, Digitalism, Photek (who mysteriously disappeared from the program), and The Crystal Method.
Moby and Carl Cox
Saturday didn't go any more smoothly. The no re-entry policy seemed a bit brutal for a 12-hour show, so I made a point of not showing up until all my other human needs (showers, food, etc.) were taken care of elsewhere. We arrived in time to catch Moby's techno set in the Carl Cox tent. In spite of the fact that Ultra is an electronic music festival, it would have been nice to see more variety in the performances. Most artists were stuck behind turntables, which is fine if all you do is DJ, but artists like Moby who are also musicians could easily put together more captivating sets with some live instrumentation. Regardless, the tent was full of hyped up dancers and costumed partiers. Moby was a lot more animated than I expected him to be, flailing and pointing at the crowd for spurts throughout his set.
Carl Cox took the stage and the crowd thinned considerably, which is a shame, because he laid down an aggressive set of house that was more soulful than Moby's set. Cox was the only DJ the whole weekend who I saw speak to the audience and try to get them hype. The Carl Cox tent was one of the better locations to hangout because of intimacy and music combined.
Drum and Bass – Adam F and Goldie
After hearing Moby play Underworld's "Born Slippy (Nuxx)," we made our way to the main stage to hear Underworld perform tracks from their latest – Oblivion with Bells – but fell under the spell of an old favorite. Crossing the lawn from Carl Cox back to the main stage, I heard the manic thrust of drum and bass. DJ supreme, Adam F, creator of the classic drum and bass track "Circles," was flanked by two MCs who made Twista sound like Tone Loc – chopped and screwed. I'd forgotten how kinetic and powerful drum and bass could be. The throbbing bass and skittering breakbeats are both elemental and industrial, a perfect cipher for the post-millennial experience. Goldie followed Adam F and I stayed entranced (in a good way) as an urban version of Pink Floyd's The Wall flashed on a screen behind him. The crowd was awesome, the space was intimate, and the drum and bass tent was the highlight of the fest.
Finale – Paul Van Dyk
As the laws of physics dictate, for every action there is an equal and opposite reaction. Spending an hour at the drum and bass tent separated me from my friends. I forgot my phone back at the hotel, so reuniting was going to be difficult. I finally understood the reason for every Captain America and artic rainbow bright Bjork-ette. It was ridiculously easy to get lost at the Ultra Music Festival. Wearing an outlandish costume made you ridiculously easy to spot in a crowd of say 10,000 people watching Paul Van Dyk. I wasn't dressed quite so memorably.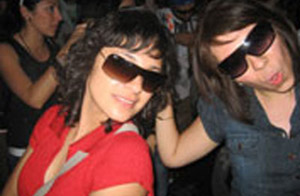 I became frustrated as I searched the crowd, peering in every face, looking for the needle in the haystack. Paul Van Dyk was on the main stage with a full band playing tracks from his latest release, In Between. The visuals of him wandering around some city were bland, and the live band added nothing to the dull trance experience. A Pussycat Doll joined him on guest vocals. I didn't care. I was anxious to find my friends who were lost somewhere in the sea of glow sticks, pacifiers, and shirtless hard bodies. I could have really gone for some ecstasy at that moment.
The whole thing about ecstasy is its ability to make you feel intense positive vibes and higher highs. It's the signature dance music enhancer. I can understand why those rosy-faced Brits were so eager to score the pixie dust, because Ultra is the ultimate escape to a land of wonder and dreamlike perfection. They wanted to take that even higher. I climbed the hill in the VIP section to get a better look out over the crowd. Hopefully fate would intervene and I would spot my friends.
For a moment, as I stood on the hill in the VIP section and looked out over the revelers, I made believe I was in utopia. Two lovers swung in a nearby hammock and a group of friends lazed around a bonfire under a canopy. The lights were shimmering and visuals were streaking the sky, illuminating the music. The crowd of 30,000+ twinkled and pulsed like stars. It was a reminder of what music can and should be: priceless.
◼
---