Pitchfork Music Festival
Public Enemy, Mission of Burma, Fleet Foxes, Vampire Weekend, Spiritualized, Bon Iver, M.Ward,
Chicago, IL • July 18th-20th
Chris Catania
In its fourth year, the Pitchfork Music Festival lacked the overall inspiration, excitement, and post-show buzz of previous years, but, hey, it still had its memorable moments. And if I had a bushy beard (like many of those in attendance) it would have been burnt off during Public Enemy's set as they tore through their seminal 1988 album It Takes a Nation of Millions to Hold Us Back. But that same bushy beard would have been twiddled and twisted off for most of Saturday in utter confusion and malaise as I waited for the same fire to come blazing from the stage. Instead I found myself constantly wondering if I was missing something by not being instantly entranced by baroque-folk quintet Fleet Foxes and the overhyped Vampire Weekend, or the handful of electronic bands that seemed like filler compared to previous years.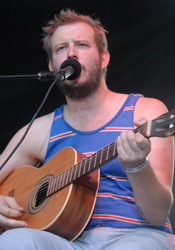 Though Mission of Burma performed "Vs." beautifully earlier, Friday night truly began with Public Enemy's festival-standard setting set. I had my doubts about the gimmicky All Tomorrow's Parties (ATP) "let's get a band to perform one of their best albums live so fans can travel back in time to a moment when a band was young, hungry, and creating its best music," but after Public Enemy's show, Pitchfork erased my doubts for the night.
Adding more heat to an already muggy atmosphere – after a dub intro set by the Bomb Squad – Chuck D bum-rushed the stage and Flava Flav followed soon after with his large clock bouncing on his chest like the break-beats banging from the speakers. Chuck D improvised around sound issues doing a double-fisted mic check and then, like a film director adding context to a film, spoke social meaning into the lyrics with brief blasts of insight in between several songs.
And then he got right back to business as he and Flava kept their initial promise that by the end of the night we were going to be "worn out." But Flava Flav didn't escape without taking shots from the crowd. After he thanked the crowd for making him number one in reality TV, the crowd booed him harshly and he responded, "Why you booing…you sound like a bunch of ghosts, with all that booing." And the booing was well deserved, especially when PE wrote and Flava Fav rapped brilliantly on "911 is a Joke," a classic Public Enemy anti-hype track. Caving in to "the powers that be" is an even bigger joke.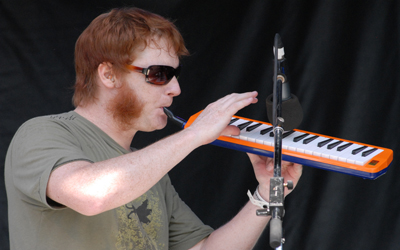 But nonetheless Chuck D bounced around the stage lathered and ready-to-rumble like a hungry prizefighter, busting out each rhyme ferociously, as if It Takes a Nation… was released a week ago, setting fire to every volcanic verse, fist-pounding punch line and funk-drenched break beat of DJ Lord, moving the minds and butts of the 17,000 summoned to rock at Union Park.
So when Saturday afternoon rolled around, the bar was set high as 39 other bands had the unfortunate role of following Public Enemy. The electronic and live instrument mix of Caribou sucked me in, with angelic falsettos floating over rushing rhythmic rivers of double drum kits' deftly orchestrated fuzz, an enrapturing and perfectly percolating diversion of sonic sunshine to the threat of rain and thunderstorms.
Bouncing between the three stage set-up, as if in the middle of a fade in, fade out, audio-pleasure triangle, I walked among fans who lounged on blankets, gnawed on pulled pork sandwiches, and swigged down brews underneath a cooling canopy of oak trees. Then it was time to turn the dial to the Aluminum main stage and immerse myself in melodies of indie-folk jammers, Fleet Foxes.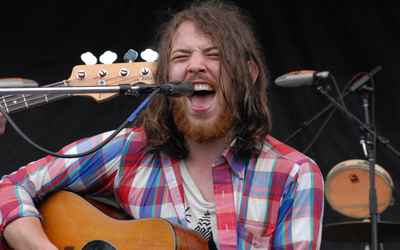 Much buzz has been building about this Seattle quintet, and their folk-flavored blend of madrigal-pop and Beach Boys-esque harmonies found its perfect hazy mid-afternoon setting as one of the largest flocks of beards, rolled jeans and sun dresses gathered to stand motionless, arms folded and blissfully absorbing the impressive harmonics that sounded similar to East-cost hippie-folk indie-rockers, Yeasayer. But Fleet Foxes dive deeper into the shape-noting and pristine vocal-sculpting harmonics. The lyrics sound nice and peaceful to the ear but seem to be talking about darker things that the glimmering melodies suggest. Not a likely epicenter for any kind of indie-rock uprising, but certainly beautiful enough to lose yourself in the midst of a 16th-century Crosby, Stills, Nash, and Young folk revival while chilling in the park on Saturday afternoon.
It seemed as if several of this year's electronic acts had yet to truly craft their live shows and are just riding the wave of MySpace and Pitchfork hype. One thing's for sure, a band can't hide what they don't have when they play live. And even all the crafty electronic gadgets can't replace the ability to write songs that inspire (and move) all parts of the body. I truly hoped for better things from the likes of the Fuck Buttons and others, but ended up with over-hyped hollow melodies and motionless beats.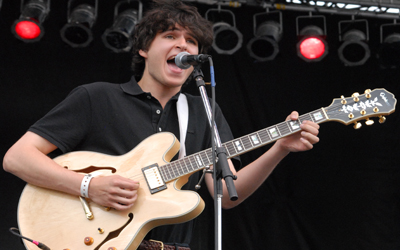 Encapsulating the theme of the several afro-pop-derived bands on this year's bill, Vampire Weekend took the stage and performed their debut and blog-hyped self-titled album, singing – with forced falsettos over perfectly practiced polyrhythms – about getting out of Cape Cod and not liking Oxford Commas. Frontman Ezra Koenig and company sang and played with a physical stiffness you don't feel on the album, but still the music somehow managed to bobble several thousand heads and hips.
After his Saturday set, a growing American fanbase doesn't look to be on the horizon for UK grime-rapper Dizzee Rascal (aka: Dylan Mills). I've been pulling for the grime rapper ever since his UK career began circa 2003, but instead my hopes sank like a crunk beat as he failed to capture the force and razor-sharp beats and rhymes that abound on his albums and mixtape appearances. Surprisingly, he opted for the ultra-aggressive route, trying to rile up the crowd and gain fans, but the shirtless performance and instigating attacks at all the "cushy and slow folk shit" (he performed just after Fleet Foxes) might have been super-counterproductive and to quote Mr. Mills, I can now "hear the sirens comin'."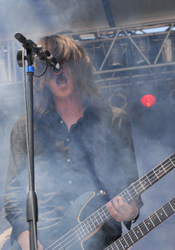 The spastic joviality of lead guitarist Craig Finn and Brooklyn-based The Hold Steady brought things up a few notches on Saturday night with their heavy bar-room rock and slip-sloppy good-time rousing riffs. And an hour later, Jarvis Cocker was at the top of his over-the-top Britpop philosophizing game. The former Pulp frontman wrapped himself in a cloak of theatrical throbs and full body thrashings that punctuated a deliverance of songs from his solo album, ending the set with a tribute to Chicago '80s dance music, a most interesting headlong merging of squishy synth beats and blistering flamboyant rock.
To save Sunday from a total dive into just another day in the park, Japan-based quartet Boris brought a bad-ass gong, their heavy metal double-necked guitar riffing and a welcomed sonic cleansing to the lilting two-day Afro-pop schema and even made the following The Apples in Stereo set sound all the more beautiful and worthy of the thousands of blissful psychedelic-pop smiles it induced.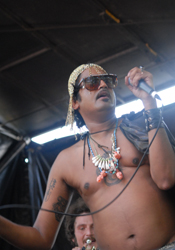 Glittery southern soul collided with oily garage rock as King Khan and the Shrines, who – with the help of a shiny gold costume for their leader, a rocking horn section, and a humming Korg organ – apparently were collectively aiming to truly entertain or become the hardest working Khan-men in show business.
With Pitchfork festival returner, M. Ward – backed by a full band – it was time again to jump on the train and travel along through a journey full of folk-style storytelling that's still impossible to slap a date on, but easy to hang your lonesome heart on, as he sang with a crispness that cut right through the muggy air and background chatter to fill ears with lyrics of love, pain, joy, and sorrow.
Like silver-tipped bullets in a Mac-10, Ghostface Killah and Raekwon packed fans into the tight quarters of the Balance stage and proceeded to fire their own magazine of rhymes and beats – fans were more than ready to have their bells rocked by two worthy chambers of the Wu-Tang Clan.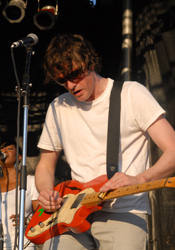 Spiritualized, specifically frontman Jason Pierce, used buzzing organs and glorious shoegazing-fuzz to communicate emotions he encountered as he recently battled illness and fought for recovery. Pierce's feelings flowed like melodic thrusters as his Songs From the A&E (2008) lifted the Sunday evening mood to a bluesy-soulful higher ground; simultaneously, a few hundred feet away, Wisconsin-native Justin Vernon (aka Bon Iver) continued in the same emotive vein of honest storytelling via "Skinny Love" and others from his debut For Emma, Forever Ago.
By the time minimalist-rockers Spoon took the stage to close the festival, I had already gotten my fill, and their streamlined set seemed like an echo-ey afterthought on the heels of Spiritualized. As I headed up the stairs to board the Green Line train home, I wondered whether the indie-tastemaker really picked the best and most promising bands to rock Union Park this year. And I hope they didn't.
Pitchfork Media: http://www.pitchforkmedia.com/ ◼
---