Zaki Ibrahim
Forecast: Purple Reign
S.D. Green
'Wake up, wake up…' Zaki Ibrahim's sinewy vocal intones. A probing horn wanders in, as if misplaced from Miles Davis' Sketches of Spain, while an udu burbles over backward snares. The tune, "Love-Like," thrusts you into Ibrahim's dream and she wants you to experience the surreal, awake. "I'd describe myself as an explorer of music; rooted in hip-hop and jazz with a lot of love for a lot of folk music, just like classic stuff."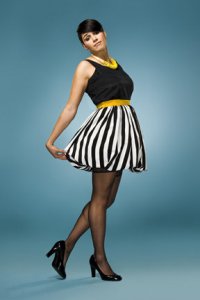 A Canadian born to a South African father and English/Scottish mother, Ibrahim has lived in Vancouver, Toronto, and South Africa, working with Tumi and The Volume and Bedouin Soundclash. But passports, borders, and travels don't begin to describe Zaki Ibrahim or her music. "I'm kind of making up my own language, in a way. Sometimes there isn't a word there's just a sound to describe what you're trying to say."
Using her voice as an instrument, she constructs the skeletons of her tracks with vocals on what Ibrahim calls her "looper" and lets the harmonies create rhythms, scaffolding of pulse and soul uniquely hers. She's of the new school of songstresses, like Georgia Anne Muldrow and Tiombe Lockhart, who use their voices as the raw elements to build sticky beats.
Around the edges are the exposed bones of a Sadé and Floetry framework, but Ibrahim is informed by a much broader and elemental palette of rhythm and heartbeat, a global pulse covered in gauzy layers of synths and ethereal kalimbas and guitars. At the same time that her music is danceable soul with traces of Soul to Soul, Eclectica is Cocteau Twins ghostwriting Erykah Badu, with sounds dug up from Tom Waits's boneyard. "In early adolescence, the same time I'm listening to Whitney Houston and Anita Baker, I'm also listening to Tom Waits and Rickie Lee Jones. That was in my imagination. I would like to make music using everything but the kitchen sink."
Ibrahim's collection, Eclectica: Episodes in Purple, is a testament to its title (recorded over one year). A series of electronic collages with a collector's emphasis on sonic details are little tone poems and testaments to the diverse colors and experiences that make up her own tapestry. "All the time that I've spent in South Africa. I've kept my ears open. I've been spoken to in different languages from one side of the family – it's a completely different dialect – and on the other side it's using words from way back, like Malaysian-sounding stuff that no one really knows the true meaning of they just kind of know what it means."
Currently enamored with her Toronto home, she insists that her soul is uniquely Canadian. "It's interesting because I'm very much Canadian, right? In a lot of the bio stuff it's like S.A. Canadian, which is because I've got my South African citizenship and I've got my Canadian citizenship, but it seems that in the United States the focus of describing this person is as a South African artist making this different kind of music. Maybe it's the idea of what urban music is. Maybe the perception is it can't be coming from Canada because how urban really is Canada? You've got lots of fields and cows and cowboys. Sure there are some cities and project buildings and stuff like that but really, how urban is it? It's either a Jamaican artist busting into the U.S. scene that's actually been living in Canada their whole life – even Kardi is Jamaican, he's not said to be Canadian that often. I don't know how that's going to get broken down and exposed and flipped on its head."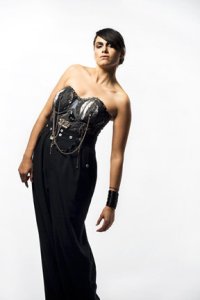 I ask if her travels inspire her sounds and if it's a conscious thing. She turns it on its ear with an easy cadence in her voice, "It is experimenting but it's also just being open with it. Just doing what I feel like doing on that particular record. Rooted in a bunch of different things. I've been experimenting, but I feel like right now the phase that I'm at is just being true with it. As I'm exploring and learning more it's just coming out as it's coming out." It's not as much influence as it is simpatico.
Her willingness to blast apart her hip-hop foundation and let her sonic stories unfold in dramatic movements yields tracks like "Lost in You" where the plaintive guitar, hand drums, and reverbed vocal ache before breaking to a swirl of My Bloody Valentine-esque bleeding noise. The feeling of everything gone wrong is so strong that you know exactly what is being expressed, even though the vocal is in French. "That particular song. I think I wrote it in my sleep. I was dreaming the song and I ended up waking up in the middle of the night and writing out what I thought were the right grammatical ways [of expressing the lyrics in French]. So I wrote out that song and stayed up cause I had this melody. When it came time to record it with Chin in Vancouver, it was the right tempo and the right feel and it kind of came out exactly how it felt. Then it was like, 'nah, this song has to wile out because it's actually about if you mess with me, you're going to get yours.' There's a moment in the middle of frustration (does the vocal percussive), then it turns into the percussive part, then it explodes cause you're actually angry at the end. Something needs to happen with the song because this is what I feel like doing and there wasn't too much thought put into it, it was just recorded and continued. It started to build layers, it just was voice before, then we added drums, and then there was a ripping electric guitar to add a bit more 'waahhhh!' to it. The song went from one end of the spectrum to the other. It wasn't for the sake of just doing that, it was just kind of like the lyrics of the song are this lovely, love song, lullaby kind of thing that needs to be shaken up."
"Every new place I go or new thing I discover is definitely going to affect the music but I am also a curious person. Like I like to – if I'm going to a place, then I'm very interested in the culture and I try to understand different methods." She's following her own muse, impervious to the boundaries that surround her.
There are a lot of new things to discover and I guess all of those things affect what I write or what comes out. I feel like I listen to seemingly different music, from the rock in Canada to the folk music in Capetown, with open ears and things resonate with me for different reasons…" She trails off back into the dream.
When I ask her where these paths may lead on her new material, she responds: "I'm still writing love songs. There's a lot of metaphor. The album is called Every Opposite. Has a lot of contrasting concepts. If I'm writing a love song, it's not necessarily about being in a relationship. I could be taking a subject or an issue or something I want to treat as the other person in the relationship or the relationship itself. I find that when I write literally it doesn't feel as effective. 'Damn you for raising gas prices, down with this or war is bad.' There's a lot of metaphors and just simple ballady stuff. Within one song, two different concepts, sing from one side and then sing from the other. Some of them are cheeky. (laughs). There's some stuff that may not make the album. Different characters kind of emerge."
With work on the new album underway, a recent spot at the 2008 Brooklyn Hip Hop Festival, and a track with Hot Hot Heat in the can, Zaki's meandering path continues to intrigue and raise curiosity. Don't sleep on Zaki Ibrahim. She already told you once: Wake up. ◼
---