Iggy and the Stooges: Escaped Maniacs
MVD Visual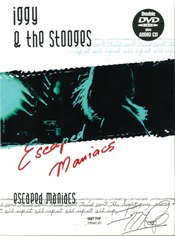 With the economy in a recession and your entertainment dollar being stretched thinner and thinner, you might be thinking, "Do I really need a 2005 Stooges concert filmed in Belgium? I mean 2005? Belgium? Really?"
The correct answer is yes. Yes, you need this.
The concert is as good as you would expect. The Stooges circa 2005 sound pretty much like the Stooges of 1970, and are playing to an appreciative audience. The band plays most of "Fun House" and the first album along with a few newer cuts. Watching Ron Asheton standing resolutely in place looking like he's concentrating intently as the riffs to "T.V. Eye" or "1970" roar out while Mike Watt looks pleased to be on stage, bouncing and popping the bass face is thrilling stuff. Iggy is Iggy. From opening song "Loose," he's humping the stage, running, slithering, jumping, and losing his pants. At one point he invites the crowd on stage, and watching the young 'uns slowly lose steam during the song as Iggy continues his supercharged pace is really something to behold.
Escaped Maniacs really shines in the extra disc and bonus features. Most of the band is interviewed in Miami 2006 by a nervous and awed interviewer. While it would have been interesting to see interviews with original saxophone player Steve McKay or Mike Watt, Iggy's fitness tips ("I do Chinese shit about 40 minutes every day") are worth it.
Esther Friedman, former Iggy girlfriend and photographer also gets an interview segment. While the interview is fairly interesting, it took a while before she was identified, so for about 10 minutes or so the viewer is in the dark as to who this woman is and what her relationship to the Stooges is.
The real find on the DVD set is a 60-minute Iggy Pop retrospective which manages to compile just about every Iggy talk show appearance as well as live performance clips from the '70s up to the current day. The clips are anchored by two lengthy interviews, one from 1986 and another from more recent, shirt-avoiding days. Watching Iggy turn the charm on Dinah Shore or seeing clips of "Funtime" with David Bowie on keyboards and backup vocals are almost enough to excuse the overuse of weird colorizing and video effects on the feature.
Escaped Maniacs is quite a rarity among music DVDs, one in which the extra features are just as exciting as the main event and should be purchased by every man, woman, and child in this great nation.
MVD Visual: http://www.mvdb2b.com