TSOL: The Early Years Live
MVD Visual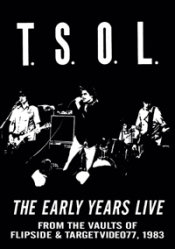 What you expect to get, both from their violent reputation and from the stark and intimidating title graphic, is a windstorm of thuggish hardcore complete with copious audience fisticuffs. What you get is five wiry young men reveling in the musical and ideological freedom that punk rock had promised and delivered to them. Ah, expectations, ain't it grand when they're dashed? Despite their youthful appearance, by this point in their non-careers, TSOL had already proven themselves pretty much the toughest boys on the block, perhaps even more than fellow OC hellions-turned-boundary-pushers Black Flag, and now that they'd come out the other side of a hail of fists and broken glass it was time to create some gloriously wild and free music. And their image, once taking cues from the Damned and Adam Ant and early death rock to provoke and enrage, was shifting and changing too. Towering frontman Jack Grisham storms onstage dressed like a gypsy/Cossack spinster (later he proudly cops to getting most of his stage outfits from his grandma), complete with handbag and sparkly hat and vest combo, while the rest of the band look like the Replacements recast as twitchy new wave speedfreaks, casting disdainful looks at their fans, wondering why they can't keep up.
By 1983, TSOL had already left behind de rigeur hardcore and embraced a headier and more diverse sonic brew, taking in elements of The Doors, the nascent indie/college rock sound, Gothic rock, arty noise, space rock, new wave, the ghostly ska of The Specials and early Pink Floyd. It's an exciting, continuing transformation. They were so young, and their music was developing so fucking fast, that you can tell that they were just swept up in this wave of manic creativity – where hardcore slamdanced with eyes-wide-open psychedelia – and it left more than one mohawked peacock looking confused and alone in the circle pit when the music would take a frantic hairpin turn into weirdsville.
There are two shows included on this disc, one from Flipside Video and one from Target Video. Both are technically superb in terms of video and audio clarity (all the more pleasing given that I'm guessing they were both mastered from videocassette), and among the best I've seen so far from MVD's punk reissues. The Flipside video is the best of the bunch. It's a daytime show on the green of some anonymous California college in front of a bunch of young punks (who look just like old punks) and a gaggle of curious onlookers. Usually "darker" bands like TSOL would wilt like orchids in the lunchtime light of day, but they thrive, even with nary a cloud in the sky, turning in a set heavy on both old classics and brand new songs that are a good deal more experimental. After the set Grisham wades into the audience to sign things, show off his handbag, and talk to the kids. The Target video set is briefer, but the quality of performance is just the same, although this time they are more comfortably ensconced in a punk venue. With the band even more polished and flamboyantly dressed, I kept thinking to myself, "Shit, they're like early R.E.M." And they sounded just as confident and ready for the mainstream. I'm not quite certain why "it" didn't happen for them, I suspect that it was a mix of not exactly wanting fame, and their fans not being open minded enough to follow them. From the looks of this DVD, that's a damn dirty shame.
The extras are plentiful. There's "Abolish Government" from a reunited TSOL in 2007; playing as part of a Vans showcase, it's almost embarrassing to see these once-youthful firebrands happily wearing a spanking new pair of Vans each. Blech. There's a recording of a reading from headman Jack Grisham's book – not bad. Best of all is a long interview conducted with Grisham, with various members of the band drifting in and out, poolside during a party at his parent's place from around 1983. They talk about the free shows they've taken to doing around Long Beach and outlying areas (one of which is included in this DVD), and their reasoning is direct and simple, "We don't need the money. When we do need the money we'll charge."
Talking about their changing music, at times the members of TSOL don't even seem aware of the tremendous leaps they were making, responding to questions about their changing sound with impatient sighs and asserting that the stuff they're working on right now is even weirder than the stuff they were currently playing out. Instead they dish out scorn on punks and scenesters who just want them to play "Abolish Government" over and over again. Everyone's pretty drunk in the middle of the afternoon, and some of the stories they are talking about – violent pranks and random attacks – would make even the likes of Johnny Knoxville say, "Hey guys, how about we just spend a quiet night in?" Grisham looks super cool in flowery flared pants and black socks with his shoes set next to him. And the interview ends when everyone just gets up and wanders away from the camera. What a great ending.
MVD: http://mvdb2b.com
---