James McMurtry
The Dedringers
The Social, Orlando, Fl • December 7, 2008
Jen Cray
The kids who came out to The Social for a matinee show by emo rockers Hawthorne Heights filed out of the venue to allow their parents, and perhaps even their grandparents, to line up for a decidedly softer evening show put on by folk man James McMurtry.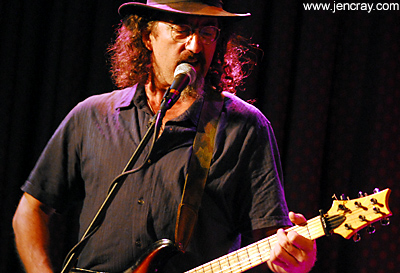 The well-dressed and largely snow-haired audience parked it at the bar as soon as they got in the door which meant two things: 1. Good tips for the bartenders, and 2. a whole lot of ugly, empty space in front of the stage – a horrific irritation for the bands onstage.
"Come closer," opening band The Dedringers begged the barflies, whose response, "We're old!" was comical, though quite sad.
The band, whose drummer pulled a second shift sitting behind McMurtry, seemed disheartened by the lack of dancing after their repeated attempts to lure some bodies forward. Ironically the crowd was ga-ga for the roots rock band, and had their album not sold out already, they would have been sure to sell a lot of copies to those seated fans. After a 45-minute set fraught with impressive guitar solos, authentically sounding classic rock, and beautiful harmonizing impressive beyond their years, the band left the stage without so much as a "goodnight." Were they really that oblivious to the undivided attention and enthusiastic applause that they had received?! The power this young band packed did not go unnoticed even though the majority of toe tapping fans in the audience were old enough to have seen the first wave of soulful, country colored rock courtesy of The Rolling Stones and The Faces.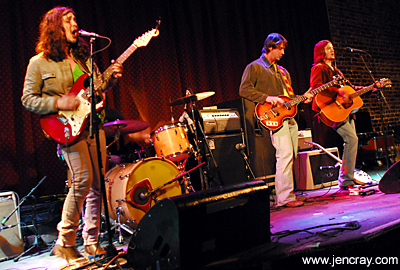 For the bearded headliner a few folks did manage to peel their butts off of the barstools and dance up a little frenzy at McMurtry's feet. I'm sure he noticed and appreciated the effort, though he has one of those intense poker faces that makes him appear annoyed/angry/bored, or any/all of the above. He seemed sweet enough, so I can only assume he's at the mercy of harsh features.
Musically, James McMurtry is a poor man's Tom Petty, with just enough political bite to provoke Dylan comparisons. There are no frills in his performance. Backed by drummer Daren Hess and bassist Ronnie Johnson, he leisurely leads the way through Southern Gothic honky tonk with a kick. He pauses only to sip his beer and change guitars, of which there are several. Blessed with a gift for words inherited from his novelist father, Larry McMurtry (Lonesome Dove), his song lyrics are seeped with working class frustrations and political opinion that are delivered with fierce sarcasm. Voices in the crowd rise up to a near scream to vent a recession's dose of empathy, as they sing along to "We Can't Make It Here."
Minimum wage won't pay for a roof, won't pay for a drink/
If you gotta have proof just try it yourself, Mr. CEO/
See how far 5.15 an hour will go/
Take a part time job at one of your stores/
Bet you can't make it here anymore.</i>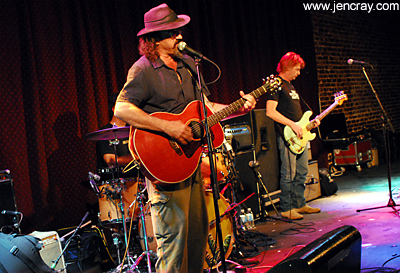 Though the subject of the song's days are numbered, with January 20th fast approaching, the Bush-bashing "Cheney's Toy" was another big crowd pleaser. Songs about economic struggle, medicative boozin', and an embarrassing government soothed the souls of those in attendance – myself included.
To see more photos of this show, and others, go to [www.jencray.com](http://www.jencray.com/bands_live.htm).
James McMurtry: http://www.jamesmcmurtry.com/ ◼
---