Lydia Lunch: Video Hysterie: 1978-2006
MVD Visual/Atavistic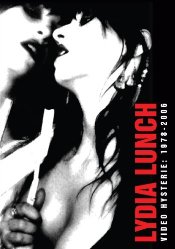 While one imagines that it must be difficult for a restless provocateur like Lydia Lunch to actually stop creating art and stirring up shit long enough to actually sit down and, y'know, get the archives in order, that no longer seems to be the case. And the results are fucking thrilling snapshots of a lifetime on the edge of expression, extremity, and beauty. Whether it be her recent reunion "shows" with no-wave upstarts Teenage Jesus and the Jerks, a renewed reissue campaign from the ever-reliable Atavistic Records, or this oft-remarkable and exhaustive video compilation from MVD – the work of Lydia Lunch is like a history of 20th century outsider music, all rendered through the words and lungs of a woman who'd never even deign taking the easy way out, never even consider not speaking her mind. And compromise? Good lord people, have you learned nothing? I guess you're going to have to watch it again. The breadth of music Lunch slashes and burns her way through on this disc is inspiring – no-wave noise, spazz freakout jazz, confrontational spoken word, bossa nova, Gothic drone big band noir, performance art, hard-hitting bluesy rock, cool cool jazz, incantatory ambiance, torch songs, and twisted lullabies.
We begin at the beginning, post-Sex Pistols year zero, with a young and snarling Lunch circa 1978, ripping Max's Kansas City apart with Teenage Jesus and the Jerks. The music of Teenage Jesus is profoundly ugly music; whenever the band hit what you would call a groove, they would disdainfully end the song. What you are left with is a pounding, pummeling mantra of wrong notes and waves of synchronized metal shards alternating with staccato metallics, all overlaid with Lunch's atonal yelp – still as revelatory and focused and underground now as it was then. Seemingly filmed with just one camera, the sound and visual fidelity of the film, unfortunately, leaves a little to be desired. Next, and just as crucial, is a set from Lunch's next band, 8-Eyed Spy. Somewhat overlooked, as this band's recorded output is sandwiched between the no wave of Teenage Jesus and Lunch's early solo work, the spazz-out lunatic big band energy of the Spy is impossible to deny. Lunch, as yet, had still not fully adopted her more familiar chanteuse from hell visual image, but was an energetic focal point for 8-Eyed Spy's supervillain cinema theme tunes. If only there was some proper camerawork here…
From there it's a whirlwind tour through the restless aesthetics and mind of Lydia Lunch, solo artist. Seeking to fuse the crafts of the torch singer, the blues diva, the Beat poet, the punk shrieker, and the performance artist into a potent brew of violence, sex, and intelligence, Lunch threw herself and her words into all manner of unfamiliar genres with passionate abandon, aided and abetted by scores of collaborators, both famous (Roland S. Howard) and unfamiliar (Pepe Sarto). Since the collected performances here cover nearly thirty fucking years, it's exciting to see Lunch grow and develop as an artist and performer. The collaborations are almost high-wire duels at times, ricocheting from the elegantly wasted goth of her work with Shotgun Wedding, to her disturbed ambiance with Joseph Budenholzer and Kamisky, to surprisingly straightforward and bruising blues-rock with Die Haut. One of her few latter day collaborators who can actually match her for intensity is horn player Terry Edwards, whose saxophone bursts match the fiery invective of her voice, intertwining into these fucking ace diabolical bop-splatter monologues. Lunch apparently agrees, as he shows up in four different performances over eight years, and each is alchemical in its fiery magic. Through the years, Lunch's personal style develops to this dark, ornate killer queen; the color is black, the boot heels are punishingly high, the hats are elegant couture. Watching these videos, it's easy to see how lesser pretenders have taken elements of her act and style and parlayed it into empty fame, while she's retained this dignity (tempered with anger and outrage, mind you) that, to this reviewer, puts her alongside William Burroughs as an artist as much committed to plumbing the dark depths of humanity as to the very act of creating. Stopping is not an option.
The extras are unfortunately slight (though really, what's left to cram in there after all of these videos and performances) but extremely useful for both neophytes and Lunch scholars alike – a discography, bibliography, filmography, photo gallery, and sort of video timeline of her career, which in many ways, even more than the videos, shows just how active and how overlooked she's been. It incorporates snippets of songs from all of her albums, period photos, and clips from interviews in Britain and France. One last fast-forwarded example of how it's beyond fruitless to even attempt to categorize this woman – is she a jazz diva, a blues belter, a noise screamer? Yes. No. Yes. No. Careful, punk, you might learn something here.
MVD Visual: http://mvdb2b.com
---