Phosphorescent
Club TSI, Jacksonville, FL • November 10, 2008
Matthew Moyer
Given that Matthew Houck's (aka Phosphorescent) latest album was an intensely personal and solitary experience, a warm and languid pool of twilit hymns and crystalline confessions in thrall to Neil Young, Will Oldham, and the Cocteau Twins, one might be concerned with how his music would translate to the smoky and more social confines of a nightclub. I needn't have fretted about such things. Besides being a songwriter and singer of tremendous emotion and creativity, I was more than a little fucking surprised to see that Houck was a showman as well.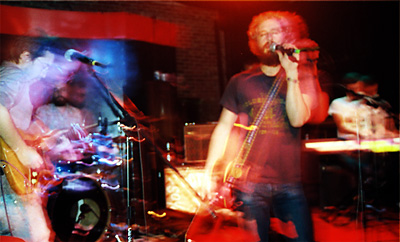 A friend who'd scoped out Phosphorescent several times before told me pre-show that half the reason he was here was to see what kind of backing ensemble would constitute Phosphorescent tonight. He'd seen quartet and solo configurations before. This time around Houck would pluck out most of the members of truly decent opening band Virgin Forest (who had a Cardinals or mebbe Gram Parsons vibe going) and set them to work remaking and remodeling his songs, but not in the ramshackle way you'd expect from an ad hoc touring ensemble. No, the interplay between Houck and the Forest was tight, exuberant and empathetic, taking the songs of newest album Pride out of the dimly lit confines of the bedroom and confidently shimmering and shimmying under the bright lights of the stage.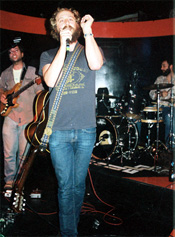 Like I said, against all my preconceivin' odds, Mr. Phosphorescent is a confident, compelling frontman. He's rail thin and about ten feet tall, head framed by corkscrew curls and a bushy beard (like a young David Crosby or Liam Hayes), clad in rebel black. He strikes poses and whoops it up somewhere between an outlaw country ruffian, madman choir director, and Nick Cave, leeeeeeaning his head back to hit triumphant high notes, teetering uncertainly on the lip of the stage, moving his arms in broad swoops, exhorting us all to sing along as one. It's a thrilling transformation. Are his band wallflowers? Nope. Nope. They become an inseparable part of the Phosphorescent equation – less session musicians or hired hands – more like the E Street Band to his Bruce Springsteen, the Bad Seeds to his Nick Cave, and the Hawks/Band to his Bob Dylan. Yeah, I know it seems kinda weird that I'd throw out those particular names, but there's a method to my hyperbole. See, somewhere along the way tonight, Phosphorescent took the songs from the stellar Pride and the lesser Aw Come Aw Wry albums and recast the hymns as anthems. And not just any anthems, these are joyous, communal war whoops.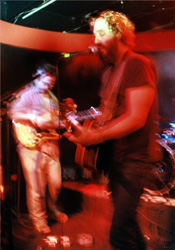 Solitary confessions become all-hands-on-deck soaring country rock gloriousness, buoyed along by a pounding rhythm section, fluid chiming guitars, incredible mercury keyboard, and call-and-response gospel-ish triumphalism. Check out the way that the Simon and Garfunkel "The Boxer"-meets-drumline ambiance of "A Death, A Proclamation" becomes a full-blooded country-ROCK raveup. Oh, and if I remember correctly, he covered a George Jones song! This is the way it's gonna be tonight. Everyone on that stage looks absolutely ecstatic at being able to make such a glorious noise, and brother, it spreads throughout the whole joint like wildfire. It's like a damn revival meeting, a barndance, a Midnight Ramble, if you will. We won't let him leave, so Houck comes out for two encores, the last playing songs like "Joe Tex, These Taming Blues" all by himself and including one begging a lover not to leave. Which is funny. Because he's smiling beatifically. And because by then we all feel a little less lonely.
Phosphorescent: http://www.myspace.com/phosphorescent ◼
---