The Faint and Ladytron
with The Crocodiles
New York, NY • April 11, 2009
Kiran Aditham
Considering that they've both produced dark, beat-driven, synth-heavy sounds over the course of a decade, it was only a matter time that Liverpool's Ladytron and Omaha's The Faint would cross paths to satisfy their respective fanbases.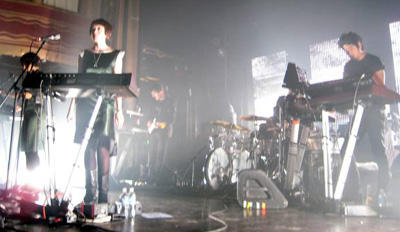 The New York City audience was privy to this serendipitous pair-up on two consecutive sold-out nights at Manhattan's Webster Hall, with both acts switching up headlining duties Friday and Saturday. While neither The Faint nor Ladytron's set list differed much from one night to the next, fans nevertheless got to savor lengthy performances from both bands that spanned their extensive discography. Opener The Crocodiles, though, were stuck with the unfortunate timeslot of 7:30, which by New York City standards is akin to catching the early bird dinner. While many – like myself – missed the fuzzy, reverb-drenched tones of the Crocs, who no doubt have a Jesus & Mary Chain record or two in their collection, Webster Hall was well-packed by the time Ladytron promptly hit the stage at 8:30.
Tall light screens filled with shifting, bright pixels served as the backdrop for the British four-piece, who were accompanied by a drummer and a guitarist onstage. Dressed in various variations of black and surrounded by keyboards, Ladytron quickly started things off with "Black Cat," the leadoff single from their latest record Velocifero. Distorted snares meshed with brooding digital blares and minor-chord melodies as co-vocalist Mira Aroyo delivered the song's lyrics in her native Bulgarian with her distinctive monotone. Her singing counterpart Helen Marnie , meanwhile, provided a warm, harmonic balance on tracks including Velocifero's dance-pop doozy "Runaway" and older cuts like "Seventeen" off Ladytron's breakthrough record Light and Magic and "International Dateline" off its follow-up Witching Hour.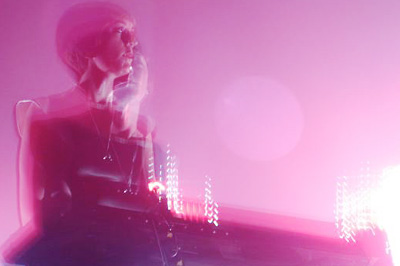 Ladytron's male leads Daniel Hunt and Reuben Wu remained in the back ensconced behind their instruments, choosing to bathe in the screen lights as they provided guitar strums, samples and sequences. Relying strictly on their music and forgoing any stage banter, Ladytron's icy persona meshed perfectly with their sound, though the propulsive track "Destroy Everything You Touch" got the audience riled up and busting a few moves as the band's set came to a close.
While the energy level was fairly high for Ladytron, it didn't quite measure up to that of The Faint, whose five members sauntered onstage to rapturous applause. Though there was barely a place to move once the band emerged, the claustrophobic atmosphere was a non-issue as soon as they launched into "Mirror Error", one of several choice tunes off their 2008 effort Fasciination.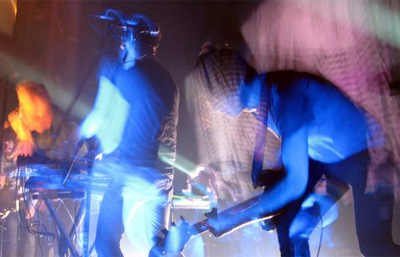 Singer Todd Fink made for an amiable, energetic frontman throughout and was matched in energy by bandmates including guitarist Dapose, whose death metal roots were exposed through his constant thrashing on the side of the stage. Keyboardist Jacob Thiele was constantly grooving, Afro-sporting bassist Joel Petersen (aka Broken Spindles) provided the low-end and drummer Clark Baechle pounded steady, pulsating rhythms as The Faint seamlessly veered throughout their catalog. The band more than satiated the crowd with "Agenda Suicide" "Your Retro Career Melted" and "The Conductor" from their now-classic 2001 record Danse Macabre while giving Dapose a workout on the riotous rocker "Dropkick the Punks" and the jarring "Birth" off 2004's Wet from Birth.
The Faint ultimately offered a blissful synopsis of their own career trajectory, which saw them begin as lo-fi indie-rockers in Omaha back in 1998 who ditched the coffeehouse blues for more elaborate, new-wave-informed songwriting. Their three-song encore effectively punctuated their current mindset as the band rattled off Fasciination's paranoia-filled "Geeks Were Right", the shuffling post-punk number "I Disappear" from Wet and Danse Macabre's "Glass Danse," arguably their most well-known tune.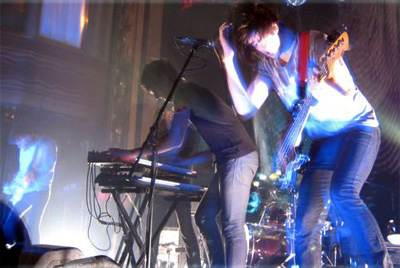 As the co-headlining show ended to a cheering, sweat-filled room, one can deduce that tonight's event was ultimately one that contrasted. Whereas Ladytron almost seemed standoffish while delighting the crowd with their glacial sounds, The Faint seemingly relished and fed off the interaction as they hammered their way through. Nevertheless, each band succeeded in their own unique way due both to their divergent personalities and convergent musical styles.
The Faint: http://www.thefaint.com • Ladytron: http://ladytron.nettwerk.com/ ◼
---