M. Ward
Chicago, IL • April 26, 2009
Chris Catania
Time never seems to have a grip on an M. Ward show. From the first note, strum, and sound of his warm-weathered croon, I slip into an inner wonderland. This feeling is the combined effect of Ward's ethereal blend of folk, country, and rock that's raw, revealing, and timelessly captivating. This show, like previous ones, was 90 minutes of transcendence as I floated away in my mind but still remained in the venue.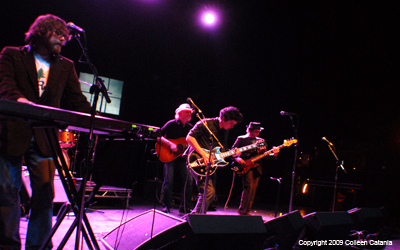 The Portland-based singer-songwriter-producer came to Chicago with a full band in tow as he continued to tour in support of Hold Time, a title that perfectly encapsulates the timeless traverse through his sixth studio album. Picking up where he left off with Post-War (2006), Ward has pulled the curtain back even further letting his heart pour forth a deeper, more profound mixture of spiritual revelation and lonesome insights into love and relationships. Sanctifying sermons like "Fisher Of Men" and "For Beginners" recall Johnny Cash, and the reworked Buddy Holly ballad "Rave On" burns slowly, dripping into your heart like warm wax off a candle.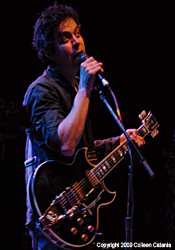 To start, Ward appeared rushed as he led the charge into "Chinese Translation," flashing smiles and plucking and strumming bluesy folk rock, telling the two-fold story of wisdom learned from an Ancient Orient sage. But by the end of the song the right tempo returned and we were on our way to a distant land that's close to the heart.
A projected image of a window sill hung on the backdrop like a minimalist painting. It spoke the simplistic beauty that lives within an M. Ward song as the folk ballad spiritual "One Hundred Million Years" unfolded like a dusty trail on a long country road, making me wonder what might be lurking beyond that subtle and imaginary blue-tinted window pane.
During Ward's solo set the intimacy levels in the Vic rose. Somehow, all by himself, in the small circle of just a single spotlight, he trumped the energy of his full band. "Lonesome Fuel" burned long and somber. It felt as though we were all gathered around a campfire or traveling with him in a rail-car as his rhythmic strumming mimicked the clickity-clack along the railroad tracks. We drank heavily and swiftly from "Poison Cup" as the addictive climax of heartache and pain reached its peak.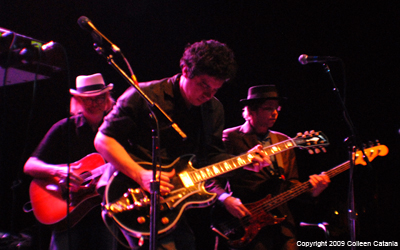 After a mixture of a few more Post-War and Hold Time tracks, Ward took us back to reinterpreted Rock 'n' Roll. His courageous cover of Chuck Berry's "Roll Over Beethoven" might've caught the crowd off guard because hardly anyone was rocking or rolling. But that's only because he did such a marvelous job of lifting everyone off their feet, so when it came time to shuffle the shoes on the deck, most of the souls were caught up in the air.
M. Ward: http://www.mwardmusic.com ◼
---