Megaphone
with Trauma DeVille, Sore Eyes
BackBooth – Orlando, FL • December 6, 2009
Christopher Long
2009 was, to say the least, a banner year for the Orlando-based power pop/rock combo, Megaphone. In August, the band released its long-awaited sophomore record Exit Silent Mode and drew nearly 2,000 fans to its CD release party held at Downtown Disney's House of Blues – a house record at the time for a local band. In November the band scored the gig of a lifetime when they opened for AC/DC at Orlando's 20,000-seat Amway Arena. In December the band returned to the House of Blues to open for Aerosmith guitarist Joe Perry. And on December 6th Megaphone wrapped up 2009 with a year-end, headline performance at BackBooth in downtown Orlando.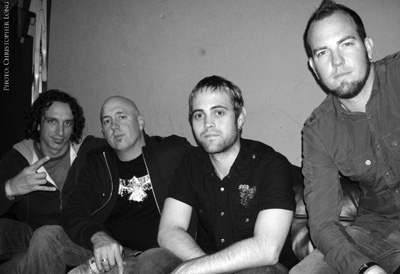 The band's dressing room was buzzing with activity just prior to showtime as members of the opening acts darted in and out while the headliners made last minute set list modifications and frantically attempted to resolve guest list issues with club staff. Yet despite the pre-show hubbub, guitarist Paul Smith, drummer Scott Smith, bassist James Woodrich, and frontman/guitarist Matt Bloodwell managed a little time for some good old-fashioned press before taking the stage.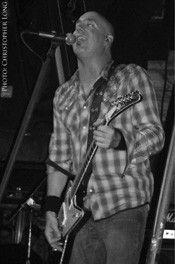 "It was really a dream come true," remarked Paul Smith regarding the band's recent arena debut with AC/DC. "We didn't win some contest or get people to vote for us," he added. "We were selected because someone thought that we were the right fit for the gig."
Since releasing their debut record For Cryin' Out Loud in 2005, Megaphone has established themselves as a hard-working top draw on the Central Florida scene. Known for their smart, catchy, well-crafted songs, they've been compared stylistically to the likes of Cheap Trick and platinum-selling songwriter/producer, Butch Walker. Given the critical praise of their first record, the band was under the gun to really deliver on Exit Silent Mode.
"We knew this one had to be done right," Smith said of the new record. "We took our time in the studio, experimented a little and we believe that we came out with something special."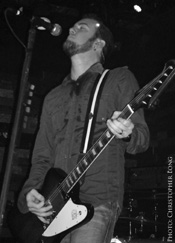 Following an impressive, gritty set from LA's filth mongers, Trauma DeVille, Megaphone finally took the stage at 10:20. Despite battling an uncooperative mic stand throughout the show, Matt Bloodwell successfully led his crew through a blistering, high energy set. "We appreciate you all so much for being here tonight," the charismatic frontman repeatedly announced to the adoring crowd.
The sixty-minute onslaught featured nearly all of the band's signature earworms from their first record, like "Freak," "Not Your Enemy," and "Drama Queen" in addition to selections from the new record such as "Gravitate, "The Sin," "Bad to Good," and "My Favorite New Disaster." And to coincide with the season they even threw in some original holiday music and just for fun, a cover of Butch Walker's "Alicia Amnesia."
But 2010 is a new year filled with endless possibilities, and Megaphone has its goals set high.
"We're going to get started on record #3," Smith added. "We want to be hugely successful as a great rock band and that's exactly what we're going to do."
Megaphone: http://www.megaphonemusic.net ◼
---