Derailroaded: Inside the Mind of Larry "Wild Man" Fischer
Directed by Josh Rubin
starring Larry "Wild Man" Fischer, Frank Zappa
MVDVisual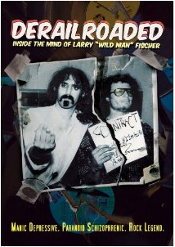 In 1968 Frank Zappa released An Evening with Wild Man Fischer, a double LP featuring the musical stylings of L.A. street performer, Larry "Wild Man" Fischer. It's safe to say that no one – not Fischer, nor Zappa, nor the listening public – were ever the same again. Larry Fischer is a paranoid schizophrenic/manic depressive who became known as the "Godfather of Outsider Music," and Outside it is. Sounding exactly how you'd imagine a rambling, screeching, crazy street person to sound, Fischer went from singing his songs for a dime to tourists on the pavement and beaches of Los Angeles to appearances on "Laugh In", a duet with Rosemary Clooney, and amazingly, several more records. Along the way he became a star of sorts, helped along by endorsements from the likes of Dr. Demento, UK disc jockey John Peel, and from working with Barnes and Barnes (featuring Lost in Space child star Bill Mumy), but unlike, say, Daniel Johnston or Roky Erickson, Fischer never seemed to be able to find that place between medicated and manic that would allow him to function as an artist for more than brief spells.
Watching this insightful yet heartbreaking documentary, you have to wonder how many more "Wild Man" Fischers roamed the streets of L.A. who didn't manage to capture the attention of a Frank Zappa and get a chance to create craft from the chaos in their heads. Because Larry Fischer is crazy, no doubt about that. Paranoia appears to be the prime motivating energy in his life, forcing him into restless motion, to get away from "them." Committed to mental institutions as a teenager for attacking his mother with a knife, Larry for a time saw music as his path to happiness, proclaiming himself "Bigger than the Beatles!" and when expected fame and fortune never materialized, it was because "they" didn't want him to succeed. "They" included the FBI, whom Fischer was convinced watched his every move, to Frank Zappa, who shunned Fischer when he hurled a jar barely missing Zappa's daughter Moon's head. The documentary features interviews with Devo's Mark Mothersbaugh, Solomon Burke, and Weird Al Yankovic, all professing admiration for the art of the Wild Man, but watching this film makes it hard to understand why. Fischer didn't so much create music as he documented pain and fear, and at times you find yourself wincing from the uncensored, unchecked outpouring of crazy.
Who knows what path Larry Fischer's life might have taken had he not found his voice, but one suspects it wouldn't have been pretty. And while people have undoubtedly spent more money on Fischer than they have ever made from his work, you still come away with a sense of unease at how so many along the years have used Larry to their own ends – including this film – while he continues to suffer from crippling mental illness. The film ends with the note that only in 2004 did Fischer gain chemical treatment for his illnesses, but in the process, lost his "pep." And who can say – including Larry himself – if it was worth it. Highly recommended, and equally unsettling.
Derailroaded: http://www.derailroaded.com
---