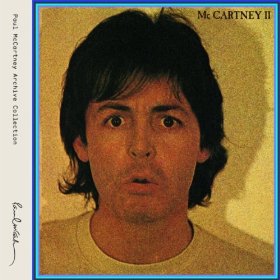 Paul McCartney
McCartney and McCartney II (Reissued)
MPL communications
When I unexpectedly received Paul McCartney's first two albums (reissued, of course) in the mail the very first thing I thought was, "That's too bad. Someone else will surely enjoy these more than I will." Don't get me wrong, I love The Beatles and I think Paul McCartney is one of the best instrumentalists of all time. The man can play anything and if he hasn't played it, he can learn in about 20 minutes. The problem: His lyrics read like 4th grade poetry. But listening to McCartney and McCartney II, it's almost as if McCartney himself understood this and corrected it.
The funky "Momma Miss America" and the somber merry-go-round sound of "Singalong Junk" highlight his debut. The best part? No lyrics. In fact, six of the thirteen tracks are instrumentals (not including "Lovely Linda," which has a total of 15 words including the "La la la's"). It does contain his smash "Maybe I'm Amazed," but that is the one song where the lyrics aren't nausea-inducing. The best two examples of inept lyricism are the grammatically incorrect "Man We Was Lonely" and the inventive, "Every morning brings a new day/ And every night that day is through" from "Every Night."
Throughout McCartney however, I was actually surprised with how instantly likeable the entire album is. I had a preconceived notion that his solo stuff basically sucked like a black hole (I still can't stand "Band on the Run"). I was pleasantly surprised.
One of the other big surprises (besides the fact that both of these albums were remastered at Abbey Road studios) was the pictures. It's like taking a look directly into the Paul and Linda McCartney family photo album. Their children are in a number of the pictures and Linda is also very prominent. It's like a time capsule when Paul McCartney was on top of the world.
Each album comes with an extra disc that includes several tracks that were recorded live in Glasgow in 1979, including a stellar version of "Maybe I'm Amazed."
McCartney II has only two instrumentals, but the lyrics are markedly improved especially on "Waterfalls" when he sings, "I need love/ Like a raindrop needs a shower/ Like a second needs an hour/ Every minute of the day/ And it wouldn't be the same/ If you ever should decide to go away."
The instrumentation is decidedly more "classic rock" sounding, almost dipping into The Doors territory on "Temporary Secretary." "Frozen Jap" is a marvelous instrumental, proving that McCartney can whip out a great track with hardly any effort.
McCartney and McCartney II have proven me wrong. Paul McCartney as a solo artist is actually really good. Does it compare to his days and collaborations with The Beatles? Not even close. Lennon is a much better lyricist, but McCartney crafted songs much better. These two reissues are vital for any fan of The Beatles or Paul McCartney or for anybody who needs a reminder as to why he is one of the biggest and best rock stars of all time.
Paul McCartney: http://www.paulmccartney.com
---