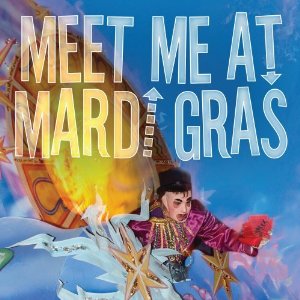 Various Artists
Meet Me at Mardi Gras
Rounder Records
It's not too late to book your trip to New Orleans for the Mardi Gras, but in case you can't make it, this collection of tracks from Rounder will have you saying "It's Carnival time!" and swigging down the punch. From classic tracks such as Joe Liggins and the Honeydrippers' "Goin' Back to New Orleans" or the riotous "Iko Iko" of Larry Williams, to the more recent, such as "Say Na Hey" from The Soul Rebels, this is a great assortment of tracks. Now I'm old school all the way, so Professor Longhair's "Go to the Mardi Gras" sounds best to my ears, but the heavy parade funk of ReBirth Brass Band on "Do Whatcha Wanna" is every bit a classic in its own way.
The music of Carnival and Mardi Gras is a celebration of the new year, performed in the streets of the French Quarter. Instantly identifiable with its "second line" back beat, The New Orleans Nightcrawlers break it down with the brass band standard "Funky Liza," and Bo Dollis and the Wild Magnolias' take on the good professor's "Tipitina" is true to the original. Cajun music is integral to the New Orleans sound, and represented here with Steve Riley & the Mamou Playboys and Zachary Richard.
Collections like this serve two purposes: to get you dancing, and to get you to explore the diversity of artists that you might not have heard before. If you like the classic New Orleans sound, then you'll be in heaven with this disc, but if you're a newcomer to the party, this will give you lots to discover. Sorry, I gotta go fix another Hurricane and put on my party beads…it's Mardi Gras!
Rounder Records: http://www.rounder.com
---