Spacehog
NY Rocks Off cruise, New York City • 8/25/12
May Terry
It's been over ten years since Spacehog released their last album, The Hogyssey, so it's easy to ask: What ever happened to the Leeds,UK/New York-based indie-glam rock band that scored their one great hit, "In the Meantime," back in the mid-'90s?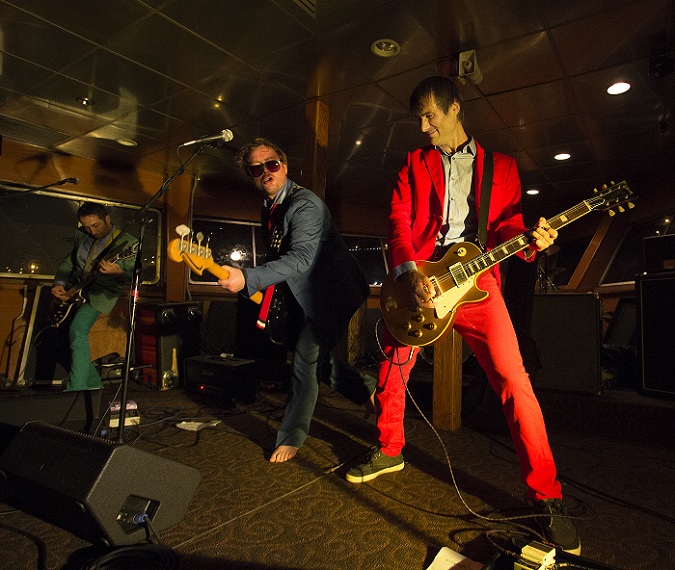 Well, in some ways, Spacehog never really broke up. Rather, they have gone through incarnations or variations of Spacehog, but without the name. During the family-fostering days with ex-wife Liv Tyler, Royston collaborated with other former members of Spacehog, as Arckid. Fast-forwarding through Arckid's revolving door of lead guitarist changes, let's just say that there just seemed to be a strong gravitational pull among these celestial bodies towards reforming Spacehog. Since their 2008 announcement to reform Spacehog and work on a new album, the band has played the occasional gig around the Mid-Atlantic region, and after hearing them live, you'll be convinced that this band should never have been considered a one-hit wonder. For this particular event, the icing on this glam-cake was that it was on an evening boat cruise around New York City.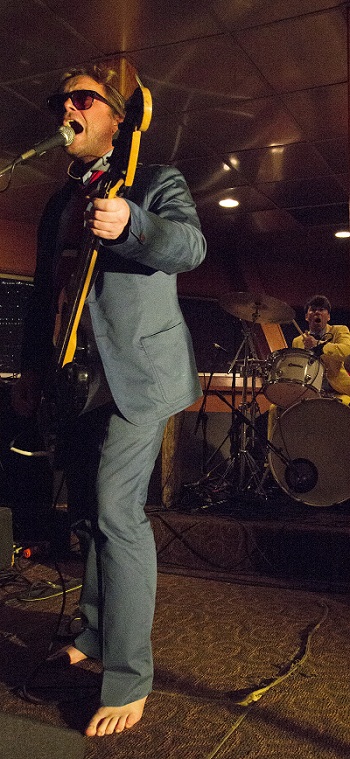 If you've never been on a boat to see a rock band that you even remotely like, DO IT – especially if a mere $25 gives you a great concert aboard a three-hour tour around New York City. Thanks to the Rocks Off event organizers, the overall night was well planned. The first part of the trip allowed for the crowd to buy drinks or food and enjoy the boat ride at dusk that delivered close-up views of the Statue of Liberty and the beautiful skyline of the NY World Trade Center.
The "stage" was set up in the lower deck towards the bow of the boat. A very small raised platform only fit the drum set, and load-bearing posts partially blocked a view of it. The rest of the band's gear was set up just in front of that, where an invisibly set personal space of about five feet separated the band at eye level with the audience. If you're a Spacehog fan, you couldn't get any closer to the band.
The band went "onstage" at around 8:45 pm, dressed in bright-colored polyester-blend suits – Jonny Cragg in sunshine yellow, Richard Steel in bright red, Timo Ellis in sea green, and Royston Langdon in dark aqua. While it wasn't as cool as their glam-driven wardrobe back in the '90s, the kitschy look did have some appeal. It seemed to convey the band's sense of not taking themselves too seriously. Royston walked in with flip-flops and quickly went barefoot when the band started the set with "Beautiful Girl" and continued with songs from their past three albums.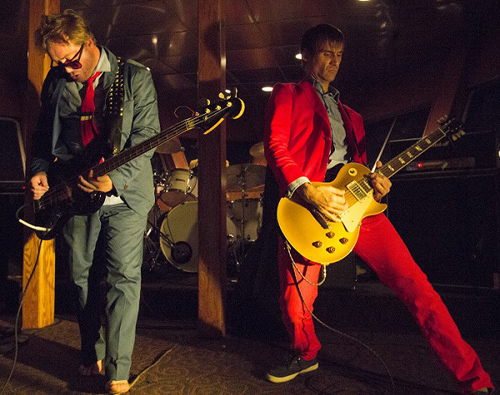 Spacehog's overall set was tight and on point. Jonny's drum rhythms were in lock-sync with Royston's great bass lines, and Richard's solos with the occasional fretboard shreds showed that the guy has some amazing guitar chops. Even Timo seemed to fit hand-in-glove, playing rhythm guitar with the band as Antony Langdon's replacement. Moreover, they seemed to genuinely be having a good time. Throughout the entire set, they smiled at each other often and made other subtle facial gestures as if there is some inside joke at some point in the song. But in spite of the band's synergy, Royston is still the centerpiece of Spacehog. And yes, Royston indeed delivered with his sultry Bowie-esque vocals that soothed us in the lower registers, and charged us up in the more lively songs like "Mungo City."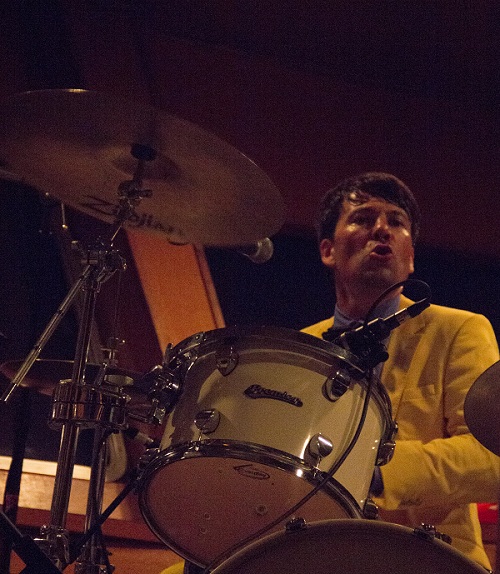 Royston's moves were also effortless, laudable in such a small space that maybe gave him about a four-foot radius without bumping into either a fellow band member or the audience. And props to the entire band for demonstrating that they have good sea legs. Playing through a bobbing boat that hit rough waters midway through the set, the band did not miss a beat or show even a hint of motion sickness. Were it not for the Dramamine, I would've easily hurled all over Royston's bare feet.
Spacehog performed a couple of cover tunes, which included a driving rendition of "Reward" from post-punk band The Teardrop Explodes. Towards the end of the set, Spacehog brought the whole crowd together when they played their breakout hit, "In the Meantime," followed by the driving song, "This is America." The show was well-timed because not 15 minutes after their 70-minute-long set, the boat was docked back at the port. It was nice to see Richard at the door, as the crowd walked out, to sign autographs and take pictures.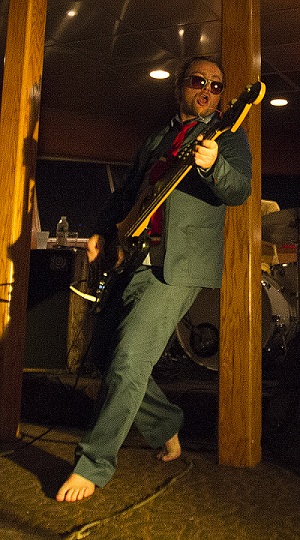 I was a little disappointed not to hear at least one song from their upcoming album, As It Is on Earth, set for release sometime this fall. A couple of the new album tracks, "Glad to Know" and "Deceit," are already available for listening online on their website. I don't know that most of the show's attendees were aware of this, but did it really matter? At the end of the night, this show was about a fantastic band that still sounds amazing together after all these years.
I'm tickled pink to hear that Spacehog has new music that re-introduces their take on glam-rock to a new generation of fans that seem to itch for derivative retro-sounds. I suspect that Spacehog will be touring around the country following the new album, and whether it's on a boat or on land, their live show is a must-see.
Spacehog: http://spacehog.com ◼
---