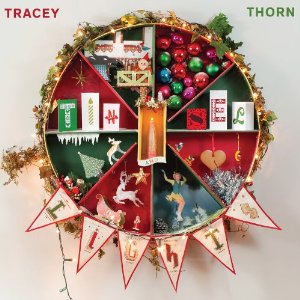 Tracey Thorn
Tinsel and Lights
Merge Records
Everyone's making Xmas records this year. Everyone. And it's not in the same way that everyone was making Xmas records in the Fifties and Sixties, when every orchestra, lounge band, doo wop group, and garage band worth its salt was cutting novelty 45s (that tended towards the sublime and ridiculous in equal measure, leading to explosions of merry sonics as diverse as "Santa Claus Is Surfing to Town" and "Dominick the Italian Christmas Donkey"). But y'know what? In a year where goddamn Mariah Carey and Justin Bieber are dueting on a vaguely creepy version of "All I Want for Chrstimas Is You," I think we owe it to our ears to give a listen to Tracey Thorn's new Xmas platter Tinsel and Lights. (Yes, that Tracey Thorn, of Everything but the Girl and MARINE GIRLS. Go on….)
See maybe you're sick of all the holiday hustle and bustle and how the ubiquitous Xmas music piped in everywhere seems to sync with the manic rushing around a little TOO perfectly, martial jingle bells soundtracking every harried footfall. Maybe, just maybe, you want an album that sums up the frame of mind that my pal Jason calls "the Christmas fugue," where you just want to turn out the lights in your living room, put the phone on silent, and stare somewhat sadly but somewhat not at the twinkling lights on the tree and sip on the vaguely seasonal adult beverage of your choice – with this album playing, NATCH.
On Tinsel and Lights there aren't any sleigh bells jingling, chimes pealing, olde tyme choirs letting loose, and nary a ho-ho-ho in sight (sound?). Yet the album's sonics are perfectly primed towards this particular time of year; twilit, chilly guitar lines and bleary eyed percussion all summon up a feeling of having some social appointment to keep but deciding not to, because (A) it's too damn cold to go out, (B) it's getting late and you've got a lot to think about in this so-called happiest time of the year, or (C) fuck it, you just don't feel like getting cornered under the damn mistletoe by some weirdo. Thorn chooses her songs judiciously, clearly the result of whole LOT of firsthand research into the Xmas canon, choosing lesser known nuggets by Low, Dolly Parton, and Stephin Merritt. She nails it with sensitivity and restrained verve.
Tinsel And Lights is not unlike some late night Xmas Eve radio broadcast coming in through the ball-shaped Panasonic of your dreams.
Tracey Thorn: http://traceythorn.com
---