Robert Glasper Experiment
with Lalah Hathaway, Eric Roberson, Stokely Williams, Questlove, Gregoire Maret, Mike Moreno, Yuki Hirano, Gretchen Parlato
Harlem Stage, New York, New York • December 13, 2012
Lauressa Nelson
Since Florida is not the most popular state for touring jazz artists, I made my way from my home state to New York City to see Robert Glasper, a rising jazz pianist and composer. He leads Robert Glasper Experiment (RGE), a band that received two Grammy nominations this year: Best R&B Performance for the song "Gonna Be Alright (F.T.B.)" featuring Ledisi, and Best R&B Album for Black Radio. This, Glasper's fifth album, features Bilal, Erykah Badu, Lalah Hathaway, Lupe Fiasco, Chrisette Michele, Musiq Soulchild, yasiin bey (formerly known as Mos Def) and more. The nominations speak to Glasper's ability to cross, blend, and rise above genres, navigating jazz, soul, R&B, and hip-hop. The music of this man's mind finds jazz elements even in rock-n-roll; he's incorporated Radiohead ("Everything in Its Right Place") and Nirvana ("Smells Like Teen Spirit") into his body of work.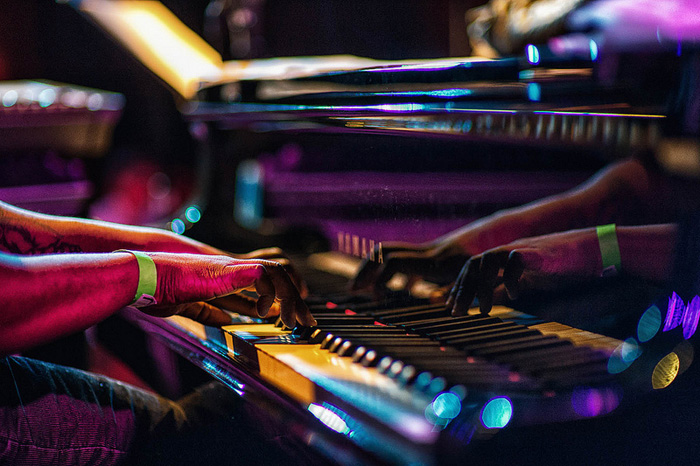 Glasper's shows at Harlem Stage Gatehouse December 13 and 14 reinforced his ability to find the place where underlying currents of jazz and soul unite seamlessly. RGE and guests played two nightly performances of "Songs in the Key of Life: a Tribute to Stevie Wonder." The show was commissioned by Harlem Stage – a nonprofit organization dedicated to promoting the creation of new works by performing artists of color and perpetuating Harlem's unique cultural arts legacy.
The Venue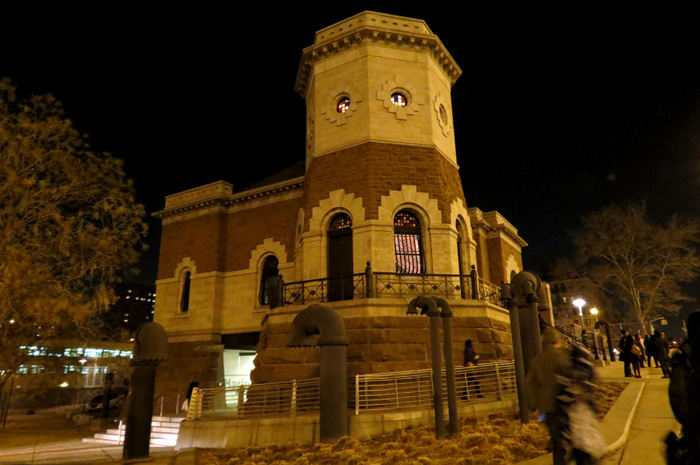 The Harlem Stage Gatehouse is a New York City landmark, built in 1890 and originally used as a water-pumping facility for the Croton Aqueduct system that distributed clean water to New York City. In 2006, the neo-Romanesque building was restored and re-purposed into a versatile performance space featuring state-of-the-art sound and lighting. One of the most magical aspects of New York City is the ability to see phenomenal acts in small venues. At Harlem Stage Gatehouse, you get a truly intimate experience of the artist. Although the venue holds up to 192 people, it felt even cozier, since it was arranged with cabaret-style seating: about 30 tables with four chairs around each, plus cheap seats for about 40 people on wooden benches along the sidewalls. Striking lighting highlights dramatic brick archways over the stage and exits.
The Band

In the corner of the stage that evening, nearly hidden behind his instruments, a Fender Rhodes suitcase, Yamaha Motif 7, and Harlem Stage's Yamaha C7 grand piano, Glasper, as musical director, offered the spotlight to the talented artists with whom he shared the stage. "It's clear that he is really about the music as a whole, not all about himself," expressed a fan at my table, who had seen Glasper earlier that evening and many times before.
To the Harlem Stage, Glasper brought the other members of RGE, comprising drummer Mark Colenburg, bassist Derrick Hodge (also the musical director with Maxwell and soon to release his debut album on Blue Note), and Casey Benjamin (who is working on his first solo album) on vocoder, keys, and soprano saxophone.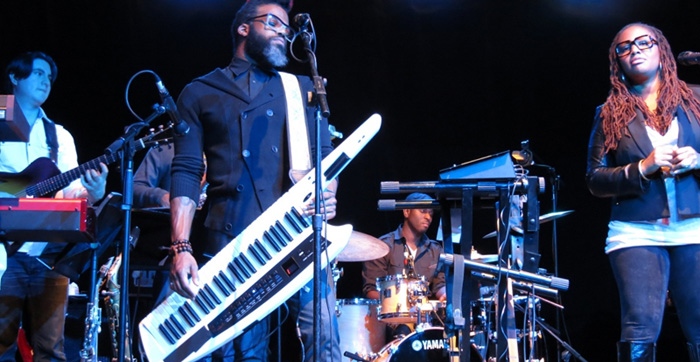 Guest performers included Mike Moreno, who recently released his fourth album and has played on several Grammy-nominated records. Yuki Hirano mastered the synthesizers, a must for any Stevie performance. Thursday's audiences also enjoyed The Roots drummer Questlove, laying down his energetic and driving beats for the first few songs of the evening.
Guest singers included Grammy-nominated Lalah Hathaway (daughter of Donnie Hathaway, who has released five solo albums); twice-Grammy nominated R&B singer Eric Roberson; and Stokley Williams (lead singer of award-winning R&B band Mint Condition).
The Set
The Thursday, 10 p.m., show opened with Wonder's 1974 hit, "Creepin'," sung by Eric Roberson. Soon, though, the only harmonica performance of the night stole the spotlight, a solo by Gregoire Maret, who released his star-studded, eponymous album earlier this year.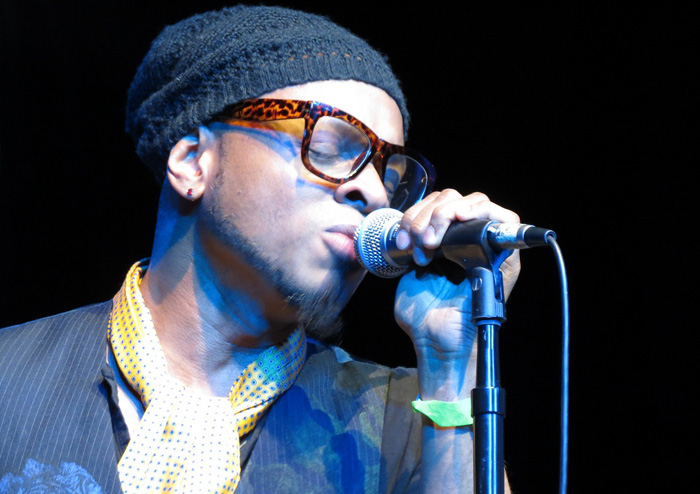 Stokely came to the stage for the second song, "Rocket Love," with the multi-talented Benjamin harmonizing on vocoder, and Questlove driving a strong rhythm. Benjamin played keytar throughout most of the show, but punctuated Stokely's vocal performance with an exceptionally beautiful and soulful soprano sax performance that clearly distinguished the instrument from the soulless, smooth-jazz associations it has gained over the past couple decades.
As Colenburg took over the drums for Questlove, Lalah Hathaway's remarkable alto gave uniquely deep power and style to "Jesus Children," while jazz singer Gretchen Parlato gave a completely different flavor to "If It's Magic," building from a soft hum to a feverish and rhythmic crescendo.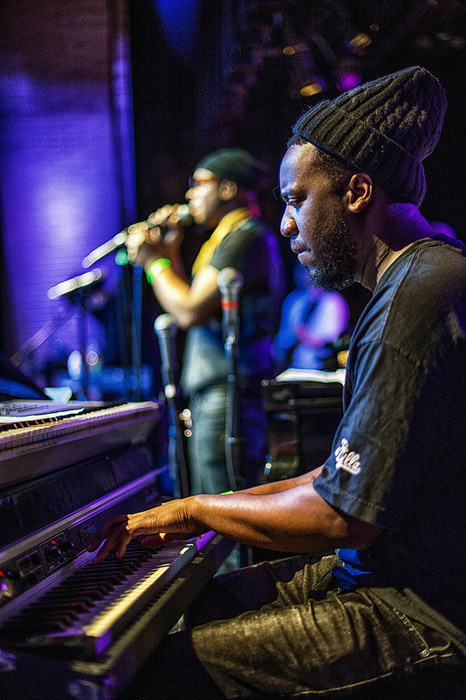 Glasper's recognizably intricate yet delicate touch on the keys introduced "Taboo to Love," and Colenburg used mallets to beat a soft rhythm beneath Stokely's reverb-soaked voice. "Taboo" gave way to a bass solo that showed off Hodge's versatility and style. As Colenburg switched to sticks and rim shots, the band fluidly moved into the 1987 song, "You Will Know," featuring a drum solo that showed off the drummer's intricate jazz sensibility. Whether you call it swing, groove, or in the pocket, the magical rhythm was there.
Yuki Hirano nailed the signature synth intro of "Superwoman," Thursday's late show closer (although Hirano says his Profet 08 can't completely replicate the original TONTO synthesizer Wonder played on the 1972 release). The gorgeous and complex song was well executed, starting with a heartfelt and straightforward delivery by Roberson, who smoothly passed the baton to Hathaway as the song transitioned into its second half ("Where Were You When I Needed You"). A floaty, wandering interplay between Glasper (dually playing the acoustic piano and the Rhodes) and Mike Moreno's guitar accompanied vocal harmonies between Hathaway and Benjamin on vocorder. The song rippled more and more lightly until it drifted into silence.
The ending left the audience calling for an encore, but the Harlem Stage seemed to be watching the clock. As consolation, Director of Programming Brad Learmonth promised a return for Glasper. Let's hope we can hold them to it.
Robert Glasper: http://robertglasper.com • Harlem Stage: http://harlemstage.org ◼
---