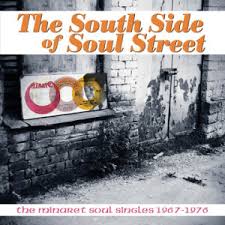 Various Artists
The South Side of Soul Street: The Minaret Soul Singles 1967-1976
Omnivore Recordings
Led by Motown in Detroit and Stax in Memphis, the 1960s were soul music's "golden age." Every region boasted an independent label, such as King Records in Cincinnati (home of James Brown), Fame Records in Muscle Shoals (which gave rise to such songwriters as Dan Penn and Eddie Hinton), the great Philadelphia International with the O'Jays and The Spinners, and Finley Duncan's Minaret Records located in tiny Valparaiso Florida.
This two-CD collection is a treasure trove of unheard grooves. Minaret was built around Big John Hamilton, who has 20 of the 40 cuts here. From the funky blues of "The Train" and "Big Fanny," to an early version of "Before the Next Teardrop Falls" (later a hit for Tex-Mex performer Freddy Fender), Hamilton was Minaret's version of Otis Redding, with a big, soulful voice that seemingly could sing anything. His backing band included Memphis/Muscle Shoals legendary songwriter and keyboardist Spooner Oldham. Hamilton performed several duets with the big-voiced Doris Allen, including a great version of Buddy Miles' "Them Changes" – funky. The label was home to Willie Cobbs, writer of the perennial blues standard "You Don't Love Me," for a while in the late '60s, and his "I'll Love Only You" included here smokes.
By the mid-'70s Minaret Records was history, and the Playground Recording Studio which was their base of operations fell into disrepair and neglect. In 2005 Jim Lancaster bought the studio, and began recording again. He's the producer of this set, and kudos to him for that. The mind reels at the amount of undiscovered soul music out there, but collections such as The South Side of Soul Street: The Minaret Soul Singles 1967-1976 go a long way to documenting our forgotten history. The fact that it's a great selection of stone grooves, well, that's just a funky plus!
Omnivore: http://omnivorerecordings.com
---