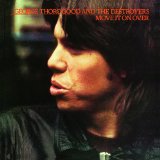 George Thorogood and the Destroyers
Move It On Over
Rounder Records
I swear this disc cut 10 minutes off my morning commute. George Thorogood's 1978 effort is the second of the Rounder re-releases, and as strong as his freshman effort. Like many second albums, this one shows increasing polish and professionalism while sticking to covers of established songs, each amped up to 11-and-a-half.
Track one reprises Hank Williams' tale of marital difficulties, "Move It On Over." It keeps the spirit and rocking 12-bar sensibility of the 1947 original, but the guitar work is much flashier and feel less constrained, almost as if the Big Dog was starting to prefer bedding with the Little Dog. Track two brings back the old Bo Diddley standard "Who Do You Love?" and its 47 miles of barbed wire fence. I vaguely remember being "21 and not afraid of dying," and this cut brings back memories many of us never had. The sadder, lonelier blues appear in Elmore James' "The Sky is Crying," although they are completely electrified and arranged far beyond what old Elmore would have ever imagined. Cash returns in the country/rockabilly "Cocaine Blues," which zips along, flying low and dodging the treetops. It's pure Thorogood and the sort of drug-positive music the powers-that-be hate. Chuck Berry's "It Wasn't Me" becomes a showcase for Thorogood's satanic fingers, and Muddy Waters contributes a heart attack-inducing "That Same Thing."
This record is Thorogood showing off and making a lasting mark on the music industry without the risk of writing a stinker of a song.
---