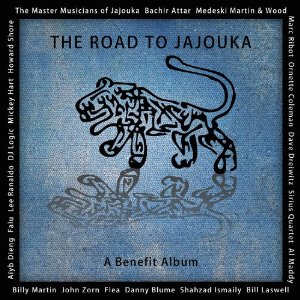 The Road To Jajouka
Various Artists
Howe
Perched upon the Rif mountain range of Morocco, the Master Musicians of Jajouka – dubbed "the 4,000 year old rock 'n' roll band" by William S. Burroughs – have fascinated listeners with their ceremonial trance music for years. Rolling Stone Brian Jones was an early devotee in the West, featuring their music on his 1971 album Brian Jones Presents the Pipes of Pan at Jajouka. Ornette Coleman found their hypnotic blend of wind instruments and native percussion so entrancing that he cut "Midnight Sunrise" with the group on his 1976 release Dancing in Your Head. Led by Bachir Attar, the Master Musicians of Jajouka are being helped out by this benefit record, The Road To Jajouka. Produced by Billy Martin, drummer for Medeski Martin & Wood, the record features a wide assortment of artists from around the world, and for the most part it's a compelling trip.
"Hand of Fatima" begins the journey, featuring Medeski Martin & Wood along with guitarist Marc Ribot and Attar, and the mixture of the ancient sounds of Jajouka and Ribot's snaky guitar is mesmerizing. East Indian singer Falu joins up with saxophonist John Zorn, bassist Flea, and Billy Martin on "Djebala Hills," and Sonic Youth guitarist Lee Ranaldo sounds right at home on "Boujeloudia Magick."
There are a few missteps, such as the collaboration between Grateful Dead drummer Mickey Hart and DJ Logic on "Baraka," which attempts to wed urban beats to the Master Musicians sound, to no great effect. But all is forgotten on the magnificent "Jnuin," with Ornette Coleman sounding as spry and imaginative as ever, his harmolodic style of playing meshing perfectly with the group's shifting rhythms and repetitive melodies. Howard Shore and the London Philharmonic Orchestra conclude the disc with "Al'Aita." Shore and Coleman wrote the score to the film version of William S. Burroughs' Naked Lunch, inspired by Ornette's work with the Jajouka musicians on "Midnight Sunrise," and his cut here is from the soundtrack to The Cell, featuring Bachir Attar and the Master Musicians of Jajouka.
This is literally a timeless music, haunting, intriguing and somewhat foreign to our ears, but one that can elevate the listener as few other experiences can. Try The Road to Jajouka with open mind and ears, and you'll find yourself transported to a place and a culture of which you've never dreamed. Some of you might not come fully back – and isn't that why you travel to begin with?
---