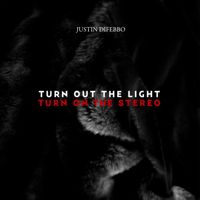 Justin DiFebbo
Turn Out the Light, Turn on the Stereo
Dim the lights, fire up some candles, and get ready for Justin DiFebbo. Philadelphia-based singer/songwriter/multi-instrumentalist/producer DiFebbo has been on the music scene for years in a band context, but he finally decided to break out on his own with his debut solo record, Turn Out the Light, Turn on the Stereo. The seven-song offering, released earlier this year, is a refreshing collection of Beach Boys/Simon and Garfunkel/Pink Floyd/Beatles-influenced material all woven into a magically unique tapestry that is clearly DiFebbo's. While seven songs may sound a bit short, it seems to work cohesively in this mellow context.
Difebbo's list of credits on the record include vocals, guitars, bass, ukulele, mandolin, piano, organ, keys, flute and percussion. There's even a glockenspiel – yes, a glockenspiel. Additional bass is provided by Michael DiFebbo Jr., guitar by Avery Coffee, and drums by Zil, while Brian Cullen and Todd Oakes offer accompanying vocals. Morphing from a Wallflowers-inspired sound into a dreamy Simon and Garfunkel "The Boxer" groove, "Coffee" sets the tone for the rest of the album.
"Play It Slow" starts out with a fun, upbeat Wall of Voodoo-esque "Mexican Radio" style to the lyrics, countered by heavy Pink Floyd-ish "Wish You Were Here" guitar work in the harmonious chorus. There are chords that smack strongly of "Wish You Were Here" but with their own unique flair. The song was written about Beach Boys founding member, Brian Wilson. "Many years have passed since when, he used his mind and not his pen. To change the state of rock again, in six part harmony." Brilliant.
With hauntingly beautiful music and lyrics, "She Refused" is rife with Beatles undertones and conveys the tragic story of an unloved daughter who bears the psychological scars of being raised by indifferent parents. "She feels better when she drinks. Helps her cope or so she thinks. It's so tragic that her life is on the brink… She doesn't want to be a queen. What she wants and what she needs, is someone who can guarantee she won't be alone."
Offering a personal perspective into organized "religion," "Stained Glass Window" is another solidly Simon and Garfunkel-influenced track. It rejects the supposed hypocrisy of "religion" but maintains an open mind to some form of faith while being true to oneself. "Well I'd rather be an honest man, than suffering fool who thinks he can hide behind his stained glass window."
Starting out with a "Hey There Delilah" sound to it, "Storm" quickly evolves into a dark and heavy breakup song. DiFebbo successfully incorporates the glockenspiel into this deep, contemplative piece, and he rounds out the end, once again, with a distinctively Pink Floyd "Time" guitar riff.
"Certain Company" wins hands-down for understated, beautiful vocals, lyrics and guitar work. The bridge is completely Pink Floyd-infused, but again, DiFebbo bends and twists it to become his own.
Rounding out the bunch nicely is the Jason Mraz-esque "Float Down River," where we are treated to a ukulele, flute and the return of the glockenspiel. Light and bubbly, it is a perfect way to finish off this stellar grouping of songs.
Turn Out the Light, Turn on the Stereo – available now in CD or digital format at cdbaby.com and Amazon.com, and as a digital download from iTunes.
Justin DiFebbo: https://justindifebbo.bandcamp.com
---