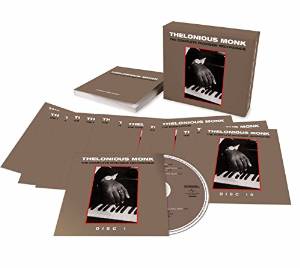 Thelonious Monk
The Complete Riverside Recordings
Riverside Records
I was introduced to the music of Thelonious Monk, and to jazz in general a few years after high school, when I was at the house of a record store employee. Like anyone who worked in music retail, his abode was stocked floor to ceiling with albums and tapes (the CD hadn't been invented yet). At one point he handed me a stack of cassettes. The two I recall to this day was a A+M collection of the early works of Captain Beefheart, and Underground by Monk.
The album's bizarre cover- Monk at an upright piano smoking, wearing a machine gun, surrounded by grenades and other weapons of the underground, gave me a hint as to what waited sonically inside. At first the unsettling piano, with Monk's weird chords, invented time signatures and his habit of grunting along with his playing, well, it was a far cry from the guitar-fueled rock I was accustomed to. But at some point it clicked- and clicked hard, and I was hooked. From Monk I discovered Charles Mingus, then it was Coltrane and Miles and beyond. But I always came back to Thelonious Monk, finding in him the freedom and the startling creative vision his music brought. It has remained to this day.
So when the chance came to review The Complete Riverside Recordings I welcomed the task. 15 CDs, recorded between 1955 and 1961, is a treasure trove of magnificent Monk. It contains his early trio work with Oscar Pettiford on bass and either Kenny Clarke or Art Blakey on drums with material such as Ellington's "Mood Indigo", "Black and Tan Fantasy" and standards such as "Tea For Two" and "Honeysuckle Rose". Starting in 1956 Monk began to record with horns such as Sonny Rollins, Coleman Hawkins and John Coltrane, and began writing his own compositions. Songs such as "Brilliant Corners", '"Round Midnight", "Bemsha Swing" are standards in their own right, and "Crepuscule With Nellie", "Ruby, My Dear" and "Well, You Needn't" have been recorded by literally thousands of players.
Now, I'm not a good enough listener- or writer- to exactly explain what the music of the brilliant yet troubled genius has come to mean to me. Monk's music sounds like no other. No one puts together those chords, against those rhythms, in quite the same way. Even a oft-played "singers song" such as "Darn That Dream" becomes something unique in his hands, his skittering, daring piano that makes the song his own. But beyond what can be transposed onto a piece of sheet music is something more, something more grand than mere notes and timbre. It's has always sounded defiant, rebellious, always reaching for something a little bit further than before. Thelonious Monk sounds like America to me. His wide-opened freedom, his unique and compelling vision, his reluctance to playing it safe, that's America. He improvised his life, and in the end, it might have drove him mad. America will do that, particularly to it's problem children, the rebels.
But god do they make a brilliant noise along the way.
---