Motörhead
with Anthrax and Crobot
House of Blues, Orlando FL • September 25, 2015
by Carl F Gauze
One thing about HOB – there's not a good seat in the house. Actually, there's damn few seats, period. In this hall you're expected to stand through a 3 hour rock show, and with the full house tonight it felt like the Fire Marshal ought to drop by lest a Whitesnake scale disaster consume us all. With some difficulty I maneuvered my way in front of some short people so I could see the stage left half of opening act Crobot.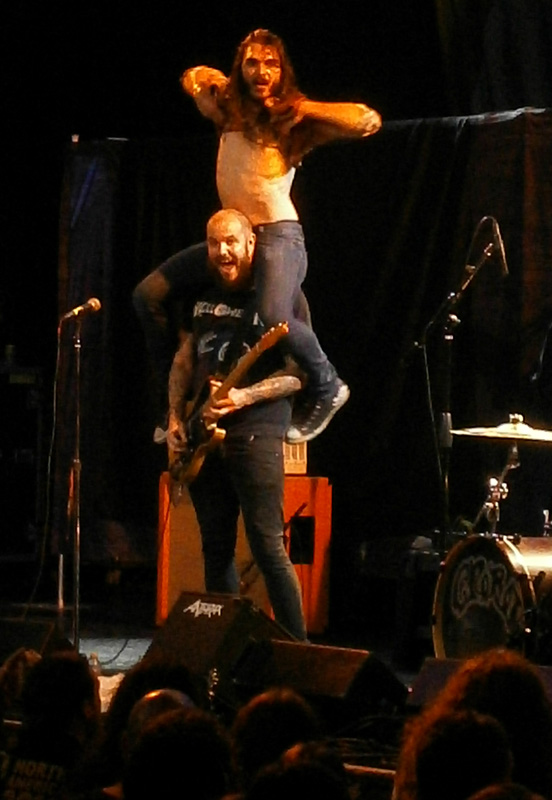 This up and coming Pennsylvania based act offers a standard lead/bass/drum backing for singer Brandon Yeagley. Yeagley's got hair long enough to preclude any sort of rotating machinery day job and clear strong voice that recalls Deep Purple's Ian Gilliam. Base player Chris Bishop liked climbing the speaker stacks; occasionally he would jump off but you could see he was holding back. Good choice, he's going to need those knees in a few years. When Bishop wasn't rock climbing and Yeagley wasn't spinning his hair like a helicopter landing into a head wind, this group had a distinctive sound. "Fat City" rocked, and I'm pretty sure they did tunes called "Chupacabra" and "Fly on the Wall." Not bad for an opening act.
Band break. Can I get a beer? It's like swimming across Lake Apopka; so I'll just stick to my illegal water bottle. While those of faint bladders foolishly gave up position, I was able to slink under a blasting air conditioning vent to see the Anthrax crew set up. There were about a dozen roadies, they all moved quickly and professionally and soon the lights dimmed and the sound got loud. Anthrax is entering its 33rd years, and that's a damn good run in any business.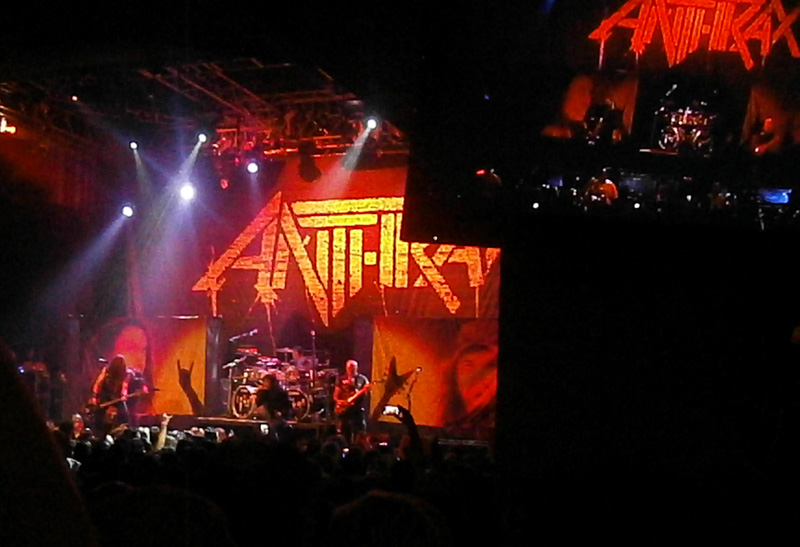 Anthrax opened with "Madhouse," then plunged into "Caught in the Mosh," Joe Jackson's "Got the Time" and Trust's "Antisocial." The audience was singing along in unison, metal signs flew, and light crowd surfing in the pit was grudgingly tolerated by the HOB staff. Or maybe they didn't want to lose there places on the floor. But eventually a full-fledged mosh erupted. Other than increasing the back pressure on the rest of the audience nothing bad happened. On again, off again lead vocalist Joey Belladonna had a great rapport with the crowd, as did rhythm guitarist Scott Ian who's been with the band from day one. Ian apologized for not appearing on the last tour due to an intestinal problem. And I ask: just WHAT sort of rock and roller cancelled for INTESTINES? My generation truly IS getting old.
Band break 2. Damn, I want a beer. I can SEE beer, but I can't GET beer. I'm surrounded by beer bellies, but now I've made a place one step up to the bar behind the center sound booth. It's a clean view of the stage but I'm constantly jostled by really overweight people in black tee shirts. But I still have my faithful water bottle. And now it's Motörhead time! You may have heard the story: Lemmy Killmeister was fired by Hawkwind in 1975 for getting stopped at the border with speed, but got released because he was charged with cocaine possession. Professionals should NEVER get caught. But he went on to form Motörhead; it was a speed metal band that got tossed into the nascent punk scene.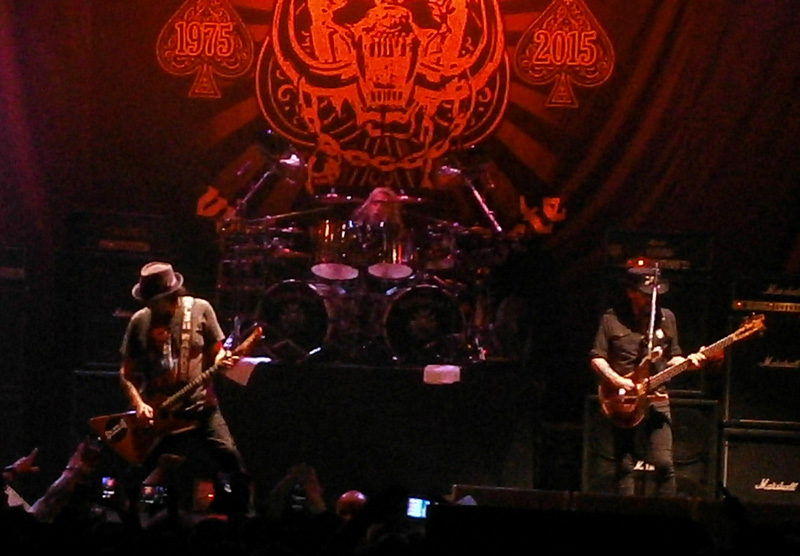 What movement occurred on stage came from guitarist Phil "Wizzö" Campbell. Lemmy stood stock still behind a mike stand wearing a huge hat. He's not very photogenic but he sounded great. Up high over the stage was a massive drum set driven by Mikkey Dee; mostly you saw his wild blonde hair flailing as he hammered out enough notes to roof a small house. The set took tracks from all over their career: "Metropolis" and "The Chase Is Better than the Catch" stood out, as well as the classic "Ace of Spades." I think I still have the 45 somewhere… It's been a long night but they crowd has held up well. Alcohol consumption was choked by the difficulty of reaching the bar, but I'm standing on a small pile of beer cans giving me a few inches advantage over the sound board. The crowd chants "Over Kill, Over Kill!" as the band troupes off stage. It's a dance we all know well, there WILL be an encore, and it WILL be the song we want. The band is back, Mr. Wizzö lights up some green LEDs on his axe, and the crowd goes wild. Suddenly it easier to move. My legs are sore, and it's off on that long hike back to my car in the torn up Downtown Disney parking lot.
Antrhax: http://www.anthrax.com; Crobot: http://www.crobotband.com; Motörhead: http://www.imotorhead.com/‎&end;
---