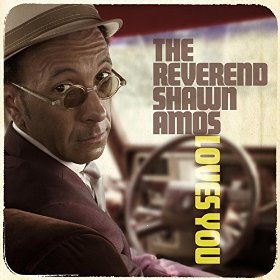 The Reverend Shawn Amos
Loves You
Put Together
Somebody needs to put a NSFW sticker on this, because when I played it at work, damn near danced myself out of the cube. Shawn Amos, son of cookie maker Famous Amos, has served up something almost as sweet as his dad's chocolate chip cookies, but with blues power and guitar grit for flavoring. He sets the bar high with the opening cut "Days of Depression" that features the Blind Boys of Alabama, and from there on its 11 cuts of soul/blues tunes that sound not unlike a Memphis soul singer fronting Led Zeppelin. Chris "Doctor" Roberts is on guitar, and his drop-dead playing and room-rattling tone bring to mind Page or a modern Hubert Sumlin (guitarist for Howlin' Wolf), and he and Amos seems to share a musical mind, with Roberts creating a groove-filled foundation for Amos to wail over.
And wail he does. "Brothers Keeper" is that mid-tempo funk that ZZ Top used to excel at while "The Outlaw" brings to mind the late, great Rory Gallagher, with the sassy horns of producer Mindi Abair hitting you like an uppercut. Their take on the Jimmy Reed classic "Bright Lights, Big City", with Abair and Amos sharing vocals is choice, something you'd raise a beer to in some Austin blues bar. They pull out all the stops on the closer "The Last Day I'm Loving You", riding the soulful B3 organ riff, while Roberts interjects some great guitar fills and Amos shows he's listened to a bit of Stax in his time.
Loves You will appeal to St. Paul and the Broken Bones fans as well as those blown away by the Alabama Shakes, but Shawn Amos gets more in the blues gutter than they, and like his father's legacy, it sure is tasty. We love you too, Reverend!
---