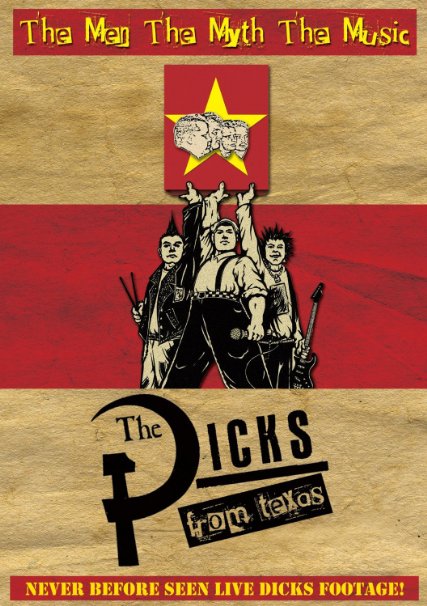 The Dicks From Texas
MVDVisual
The great American hardcore explosion came at just the right moment for a generation of misfits, freaks, and weirdos; people who for whatever reason just couldn't fit into normal life or even into the existing youth cultures.
Austin, Texas hardcore band the Dicks was a prime example of this. Fronted by Gary Floyd, an oversized openly gay man in the middle of Texas who was likely to dress in drag, a nurse uniform or a Klan outfit, the Dicks would have had their place in punk history cemented by the release of The Dicks Hate the Police, a bluesy howl of a song using black humor to make a point against police harassment, and a true American punk classic.
The Dicks from Texas, is the latest documentary delving into a slice of punk history unknown by many casual fans, and strives to show the influence and importance of both the Dicks and the early '80s Austin punk scene.
Floyd saw both the Ramones and Sex Pistols in Texas and was so inspired he started telling friends he was in a band called the Dicks. The band existed in Floyd's mind and a series of posters until springing into existence with founding members Buxf Parrott, Pat Deason and Glen Taylor. Self-described "stars with sweaty armpits," the Dicks formed friendships with fellow Texas punks the Big Boys and MDC, toured the country, released two albums as well as the groundbreaking debut 7" and built up a fan base in Austin that felt more like a family a like-minded weirdos than a usual band-fan dynamic.
Amateurish in the best way, the film captures subjects speaking directly to the people behind the camera with asides like "… y'all were at that party," which adds to the documentary's homemade charm. Along with surviving band members including a bearded, genial Floyd, the documentary features punk documentary mainstays Ian MacKaye and Henry Rollins, as well as a large number of female interviewees, which is a surprisingly nice change from the usual male-centric documentary subjects. Utilizing old photographs and previously unseen performance footage The Dicks from Texas is as much a love letter to friends and family of the Austin punk scene as it is to the band and is recommended to fans of punk history and groups of freaks and misfits sticking together to form a community in the midst of indifference or outright hatred.
---