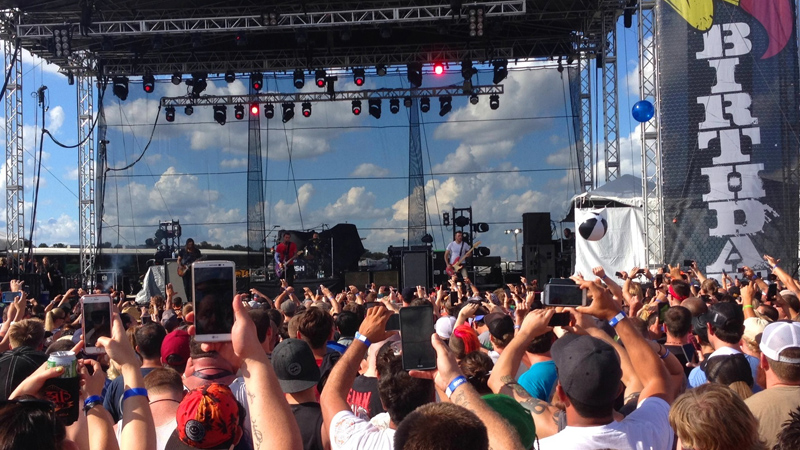 WJRR's Earthday Birthday – 2016
with 311, Bush, Chevelle, Breaking Benjamin, Halestorm, Drowning Pool, Trapt, Lacey Sturm, Fit For Rivals, Cilver, and others
Central Florida Fairgrounds / Orlando, FL • 4.23.16
by Christopher Long
Diehards numbering in the tens of thousands converged onto the Central Florida Fairgrounds in Orlando for what's become an iconic event – popular AOR radio station WJRR's annual outdoor Earthday Birthday concert. 2016's daylong, sweat-soaked soirée marked the festival's 23rd anniversary, and presented fans with a comfy, golden oldies revival of sorts – featuring an array of classic rock acts, including 311, Bush, Chevelle, Breaking Benjamin, Drowning Pool and Trapt – as well as a fistful of compelling younger bands.
One of the day's early highlights played out on the Rock Pink main stage with Orlando's Traverser throwing down at around noon. "Thanks for supporting live music," frontman and guitarist, David Medairos offered to the 1,000+ early birds, just prior to the closing tune of his band's rock solid, and well-received 25-minute set. "Do you know what live music is?" he inquired further. "It's an art – when people get onstage and create something out of thin air for you guys," Medairos continued. "Some people say it's dying. But I say, 'Fuck that shit!'" he concluded.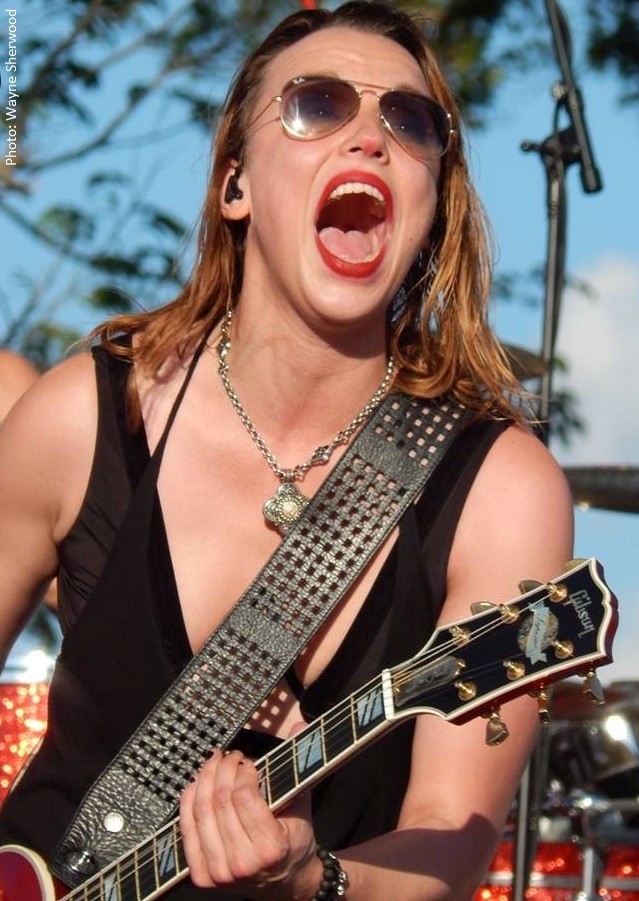 Although the secondary Bud Light stage would be home to a blistering, late afternoon set from rock radio darlings, Halestorm, it was DOMINATED completely at 12:30 by tattoo-covered frontchick, Renee Phoenix, and her Jacksonville-based combo, Fit for Rivals. This grimy gang of young gutter punks delivered enough hooky crunch to reel me in straight away, while packing enough below-the-waist punch to make me feel like I was somehow getting away with something nasty. And as they wrapped-up a sizzling set with their super-catchy YouTube hit, "Freak Machine," it occurred to me that I'd just seen THE best band of the day – and it was only 1:00. Note to self: Buy Fit for Rival's record, ASAP!
While the sweltering, mega-decibel brouhaha ensued on the outdoor main stages, the vibe playing out on the considerably smaller, indoor "Chill Zone" stage was, "chill," indeed. Kicking off the acoustic festivities at 1:00, Jefferson City, Missouri's, Shaman's Harvest served-up authentic, down-home, Allman Brothers-style flavor. Referring to the downside of playing on the air-conditioned indoor stage, frontman Nathan Hunt confessed, "I can't sweat out the alcohol from last night." Without pretense, the engaging lead singer further apologized to the crowd of 500+ -"We're gonna fuck it all up for you," he revealed, as he led the band into the fan favorite, "In Chains." Bursting with organic, bluesy soulfulness, the Shaman's stripped-down version of their 2009 hit, "Dragonfly," also featured a beautiful "Behind Blue Eyes" intro snippet, and provided a major set highlight – rivaled only (perhaps) by their chilling acoustic re-make of Prince's "When Doves Cry."
The Chill Zone proved to be my preferred perch for much of the day. As a result, I also soaked up a truly impressive set from modern rock stalwarts, Trapt. More than 1,000 fans had packed into the tin can-type "chill" shed by the time the California-based chart-busters took the stage at 2:45. Led by founding frontman, Chris (Taylor) Brown, the band received a near-deafening, thunderous responses to the unplugged versions of their hits, "Love/Hate Relationship" and "Headstrong."
"Let me hear y'all scream," commanded current Drowning Pool frontman, Jasen Moreno, as his merry band of God haters hit the "chill" stage at 3:45. Sporting a zany-looking black T-shirt emblazoned with a horned goat on the front and the wacky slogan, "NO GODS," printed across the back, Moreno proved to be a one-man, non-stop spitting machine. With sure-fire confidence, Moreno led the Dallas-based quartet through a concise set that focused primarily on acoustic versions of selections from their 2001 major label debut, including such early staples as "Sinner," "Tear Away," and the set-closing signature anthem, "Bodies."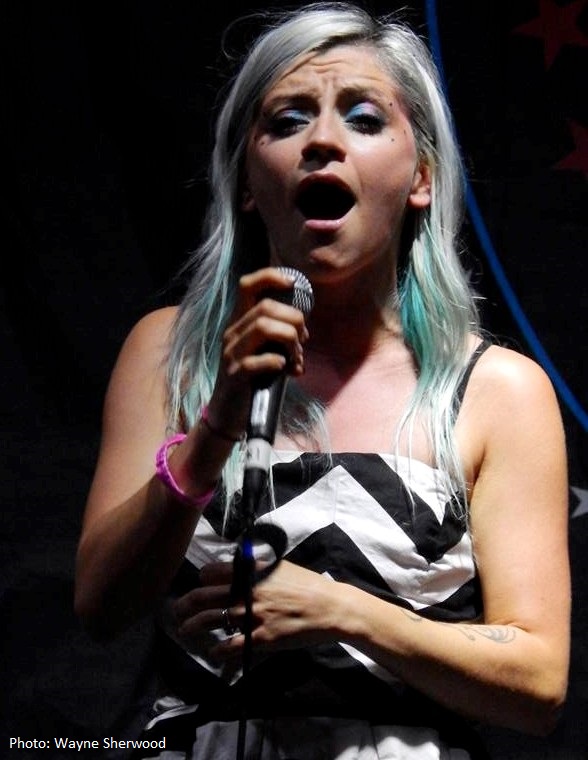 In contrast to Drowning Pool's demonic dopiness, Lacey Sturm brought class, charm, and much-needed "light" to the Chill Zone, shortly after 5:00. Accompanied on acoustic guitar by her husband, Josh, the former Flyleaf vocalist showcased most of her newly-released debut solo record, Life Screams. Draped in a delicate-looking, black and white-striped, Dirty Dancing-style dress, Sturm knocked out her seven songs with the voice of a bona fide angel, while offering a personal testimony of faith with the boldness of a true blue apostle. And the adoring crowd goes wild!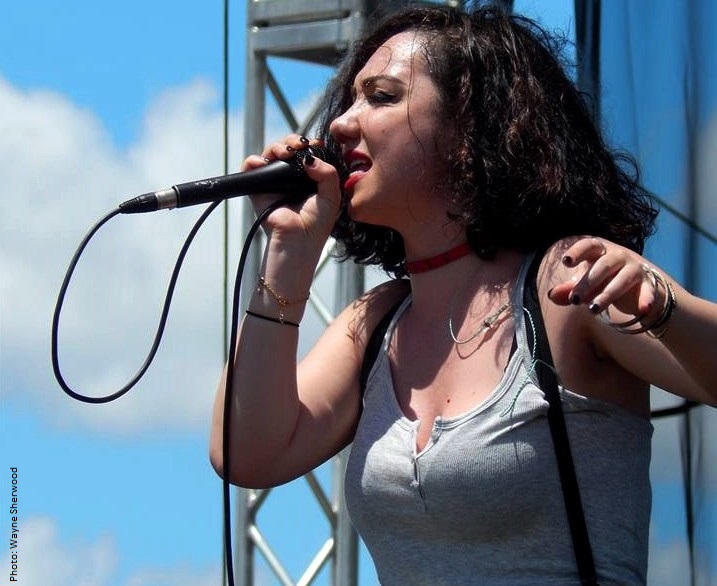 As the indoor stage "chilled," the outdoor main stages continued to sizzle throughout the day – giving birth to several noteworthy performances. Rising from the ashes of their former project, Me Talk Pretty, co-founding lead vocalist, Uliana (Preotu) Cilver and partner/guitarist, Leon Lyazidi, delighted thousands of afternoon fans with a high-energy set from their latest creative incarnation, Cilver. "Orlando – give it to me, baby," Preotu declared, as her NYC band blasted onto the Rock Pink stage. Consisting of infectious selections from their just-released debut album, Not the End of the World, Cilver connected with the crowd, as flocks of female 20-somethings sang along to the band's current hit, "I'm America." However, ONE burning question remained in my mind – "What was the drummer's name?!" Hello! Is this thing on? Did ANYBODY catch her name?! I'm inquiring only because, that girl was THE single greatest rock star of the day – bar none! Oozing the allure of a black-haired Lita Ford, combined with the chops of Tommy Lee, she punished her fabulous-looking fluorescent green TRUTH drum kit with such ferocious, cock-rock style, that I want to build a monument in her honor. Just sayin'.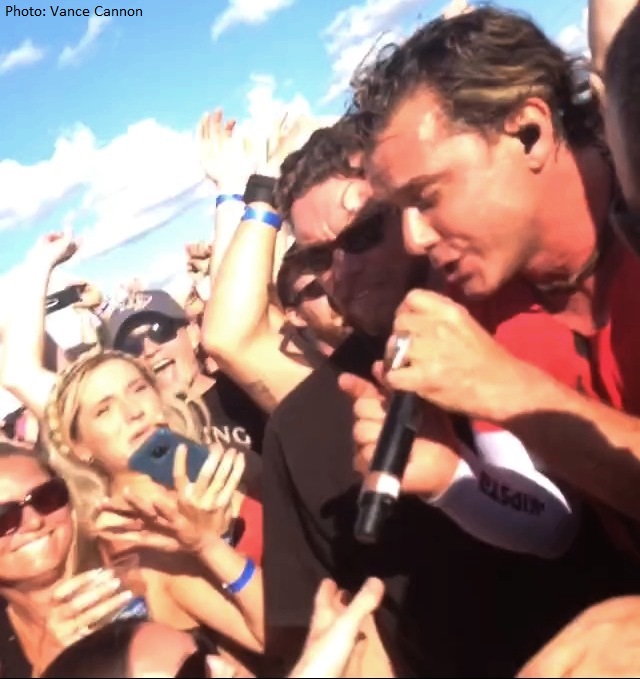 Grunge-era poster boy, Gavin Rossdale, also wowed the Rock Pink masses with his latest scab version of '90s rock sensation, Bush. Possessing authentic, old school, palooza-style panache, the newly-single heartthrob mixed it up, one-on-one with fans in the pit, while delivering a cavalcade of classic hits, as well as a peculiar remake of the Talking Heads', "Once in a Lifetime." I didn't see that one coming, but it was a well-played choice, indeed.
With so much "bang" factor, Earthday Birthday offered more options than any one person could take in – myself included. As a result, I experienced a buttload of great bands. And I saw a couple of crappy ones too. Regrettably, I couldn't see them all, but I had a blast, for sure. #PsychedForEDBD24 ◼
---