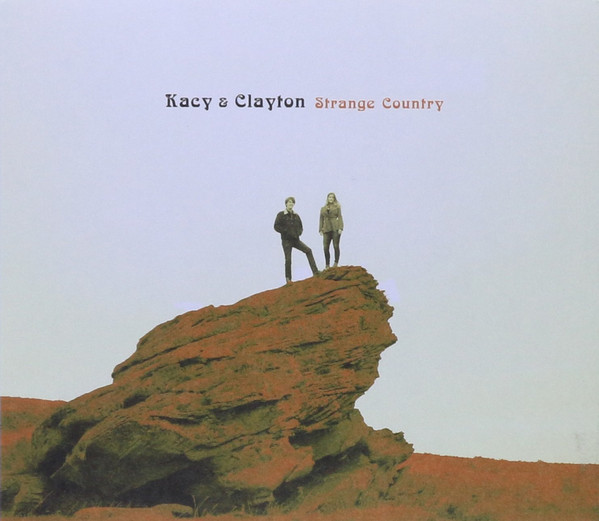 Kacy & Clayton
Strange Country
New West Records
Excuse me while I swoon!
Kacy Anderson (vocals) and Clayton Linthicum (guitar), who call Southern Saskatchewan, Canada home, are young souls with one foot in the Appalachian Mountains, the other in mid-'60s England. When the steady, crisp fingerpicking of Clayton opens the disc with the title song (his technique reminds you of Bert Jansch), you're transported back to the heady highlights of the British folk scene in all it's glory. Their voices meld together as one, reminding you of the great Folk Roots, New Routes, the acclaimed 1965 release from Davey Graham and Shirley Collins.
But the pair aren't simply the latest replicators of a classic sound. They find inspiration in Byrds-style pop ("Springtime of the Year") or a somber ballad "If You Ask How I'm Keeping" with subtle vibraphone from Barrett Ross. "Down At The Dancehall" sounds tailor-made for Emmylou Harris, a Cajun-enthused spin with Anderson's sweet vocals taking you to some lake-front dance in some tiny Louisiana backwood.
Off-set from the sprightly guitar and the drum tattoo are the words of "Brunswick Stew", which is a old-time murder ballad of a mother drowning her child that you would perhaps find on a Carter Family compilation (it was actually written by the pair). Echoes of Richard and Linda Thompson abound, particularly on "Seven Yellow Gypsies", while "Plains of Mexico" has a bit of Dave Van Ronk. By the time the record ends with "Dyin' Bed Maker", the temptation is to hit repeat and hear it again, in all its subtle beauty and mystery. Kacy & Clayton have channeled something familiar, and put their own touch upon it. I could listen to this record forever…while swooning.
---