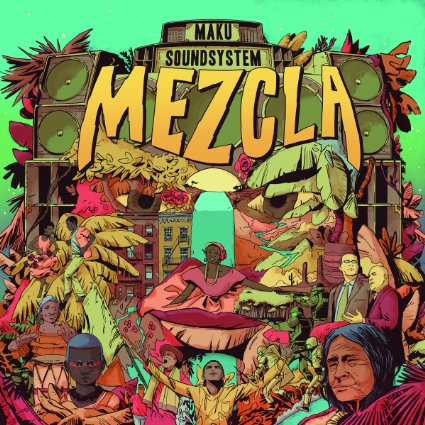 M.A.K.U. Soundsystem
Mezcla
Glitterbeat
Largely made up of Colombian immigrants, based in New York, M.A.K.U Soundsystem creates a riot on their fourth release, Mezcla. The eight-piece band takes influences from their homeland, Afrobeat, touches of jazz and some slinky funk and tosses it together- a melting pot, if you will. Vocalists Liliana Conde and Juan Ospina go from English to Spanish, so following the words can be a bit tricky, but that won't matter to your feet. This stuff is addictive, fresh and compulsively energetic.
Horn-filled, with splats of bubbling Moog, and a raft of percussion, this is street party music deluxe. From the opener, "Agua" to the spirited "La Inevitable" (which hosts a Funkadelic-ish keyboard part) and "Happy Hour", this is such a great mixture of South American music, African pop, and jazz that at times reminds you of the heights of the Afro-Cuban jazz experiments of Dizzy Gillespie- if Dizzy had access to funky synths back in the '40s.
By the time you reach the closer, "De Barrio", which lets the disc ride out on a medium-tempo pulsing groove, you'll be hooked. Now, time to order the rest of their catalog! M.A.K.U. Soundsystem is a worldly treat indeed.
---