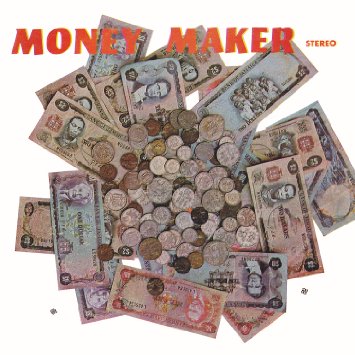 Various Artists
Money Maker
Studio One/Yep Rock
Money Maker is an artifact from the early '70s. This compilation showcases artists from the Studio One stable and was originally released in very limited pressings. It catches a moment when Jamaican music was transitioning from the laid back rock steady sound to the even more laid back feel of reggae. For decades it's been one of the rarest Studio One titles released.
Money Maker is a largely instrumental collection that makes it clear that many of the Studio One musicians were grounded in jazz. At this time Jackie Mittoo was living in Canada and brought a definite soul influence to the sessions. Ernest Ranglin slides his jazz inflected guitar leads onto many of these tunes. "Black is Black" by Im & Dave features nice horn solos over a loping rhythmic groove. Jackie Mittoo's contributions sing with a wheezy Hammond B3 sound that really captures the period.
There are only two vocal tracks on the compilation. Lloyd Williams "Black Man's Train" is an upbeat ska tune that lets Ranglin run wild with tasty guitar fills and chunky wah pedal riffs. Maybe the most unique track on the record is "Great Mu Ga Ruga." It's a spooky vamp that with vocals by The Boss. In this case, the Boss is none other that the great producer Clement Dodd.
In the final analysis, Money Maker is one of the great lost party mix tapes. It's the soundtrack to a chill evening spent with friends and the libations of your choice. Sit back, relax and cancel all other engagements, and maybe shake your money maker with friends.
---