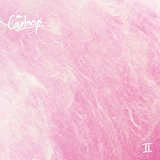 The Courtneys are three women from Vancouver, British Columbia. Somehow, the caught the attention of the folks at Flying Nun records half a world away in New Zealand who are releasing the bands sophomore effort. While the band are the first non-Kiwi band to be signed to the bastion of Kiwi Pop, the signing makes perfect sense. Perhaps more than the current crop of New Zealand bands, the Courtneys pick up the mantel of such well loved Kiwis as Snapper, the Clean and Look Blue, Go Purple to bring the fuzzy charm of cheery-morbid psychedelic rock into the new century.
The Courtneys' songs wrap lyrics about the mundane struggles of daily life in a gauzy cocoon of distorted guitar chords and throbbing bass. On "Country Song", they sing, "woke up in the afternoon / late to bed I woke too soon / this is not the place I need / but for now, it's what I need." These are sentiments familiar to any struggling artist, student or really anyone living a life that isn't quite what they're hoping for. That sense of off handed striving is also heard on Tour. "What you area and what you want to be / It takes a long, long, long, long time / And I don't want to be alone /It's time to let it go/ slack off and hit the open road." "Iron Deficiency" makes me think of Look Blue, Go Purple being fronted by Moe Tucker.
Flying Nun has been quiet for quite some time. I hope this release many signal a revival for the once formidable label. I certainly hope that the New Zealand label will be able to help this Canadian trio reach audiences near and far. Sometimes, it good to be reminded that while the struggle continues, embrace what you need right now.
---