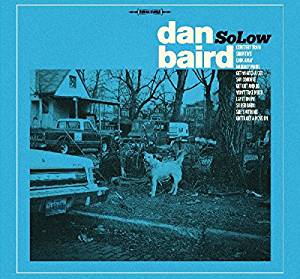 Dan Baird
SoLow
JCPL
It's been 30 years since Dan Baird and the Georgia Satellites released their first album, with the classic rock anthem "Keep Your Hands to Yourself", a 3:26 dose of southern frustration that on any given night a 1000 cover bands are doin' to death. In lesser hands that would be enough to hang your hat on, but Dan Baird ain't that guy. He stayed with the Satellites for another 2 records, including 1989's In the Land of Salvation and Sin (more about that later). In recent years Baird has recorded and toured with "Dan Baird and Homemade Sin" featuring human dynamo Warner Hodges on guitar, crafting one hooky, pedal to the metal record after another – their latest is Rollercoaster, and they have proven every bit the equal of the Satellites in their prime, with no signs of slowing down.
But for his latest SoLow record, Baird retired to the basement, and with only Brad Pemberton (The Cardinals, The Bluefields) on drums, along with fellow Bluefield Joe Blanton on production, crafted a record that could only be made by a guy who, in the words of "Won't Take Much" – "They say these are the golden years, but I got my doubts"- looks honestly at the growing old, losing friends and slowing down that if you're lucky, you can achieve. And in doing so, he has made possibly his best album since Salvation and Sin.
That record didn't sell at all, and shortly thereafter Baird fired himself from the Satellites and started his solo career. But that record, with its wide-eyed look at the end of a marriage on songs such as "All Over but the Cryin'", "Dan Takes Five" and the bittersweet "Another Chance", showed Baird to be a songwriter of real depth beyond the yuks of "Keep Your Hands". And now, with SoLow, he has elevated his game into the ranks of some great rock n' roll songwriters ala Patterson Hood (Drive-By Truckers) and Paul Westerberg (The Replacements). This is a record of fond goodbyes and hard questions, starting off with "Cemetery Train", whose buoyancy harkens back to Baird's first solo record, Love Songs for the Hearing Impaired from 1992 and the single "I Love You Period". Baird is a Zen master of cool hooks (a lot like one of his idols, Al Anderson from NRBQ), and with its irresistible chorus, "Train" sets both the tone and sound for the albums 12 cuts.
Baird mentions in the liner notes that this was to be an album "that dealt with me aging, the passage of time and loss", and nowhere is this better stated then the driving and mournful "Say Goodbye" whose opening lines – "Here it comes, another December/Didn't think it'd still hurt this bad" might be in reference to the death of Bobby Keys in 2014, with whom Dan fronted the "Suffering Bastards" – one of the great saxophonist's last bands, and whose loss he refers to often. Images of growing old are all over the record, from the weary "Won't Take Much" – "I'm moving slower, the days go faster" or "Cemetery Train" with "Well if the good die young/Well I must have been bad/Yeah I wasted some time/But I gave it all I had". One can relate.
Dan Baird has been a southerner since his teens, and while his output takes the blues, country and early rock of below the Mason-Dixon Line and stirs it all together, he's never taken his homeland to task until now. "Look Away" is Baird at his most pointed – "Look away my sweet Dixieland/You're so afraid of what you don't understand/I know this place like the back of my hand/Look away my sweet Dixieland" over soaring guitars. It's a song of impatience, of disgust and sadness at our regions fruitless attempts to halt the progress of time. It's one of Baird's greatest moments, a sort of flip-side to Tom Petty's "Southern Accents", a moment of deep poignancy that commands "Let the past go spin in its grave".
SoLow is a masterful accounting of the state of life of a middle-aged song writer, who's managed to create a life built upon doing things his own way, down whatever path looks the most interesting at any given moment. It's a life of success and failure, joys and tears – much like all of us. Baird finds the common humanity that ties us all together and sings it back to us over an I-IV-V chord progression. Friend, I sincerely hope you keep on keeping on, because you're one of the best.
---