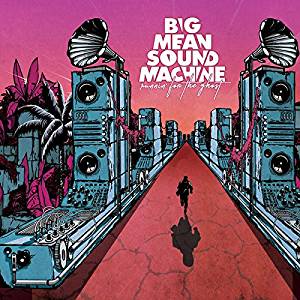 Big Mean Sound Machine
Runnin' for the Ghost
Peace & Rhythm
Runnin' for the Ghost has been on my sound system almost constantly since it arrived in the mail. I play it while I'm working on spreadsheets and I play it in the car while I'm zipping around in traffic. If I weren't dancing impaired, I'd probably be shaking body parts right now. It's a perfect getting things done soundtrack.
Big Mean Sound Machine is a nine piece band from Ithaca, NY with a sound based in Afrobeat, but drawing on influences from all across the musical spectrum. The Sound Machine is content to let their instruments do the talking (or put another way, they don't have any singers in the band). These instrumental tracks are built on the surging rhythms of Afrobeat, but I hear elements of Dub reggae, Caribbean carnival tunes, a hefty dose of funk and loads of jazz.
I'll tell you how infectious this music is. When I looked at their tour schedule and saw that they were playing a bar over 300 miles away in a couple weeks, I seriously thought about taking a road trip to see them. The reality of the show being on a weeknight, I have a day job and limited funds killed that idea, … but I really wish I coulda pulled it off.
---