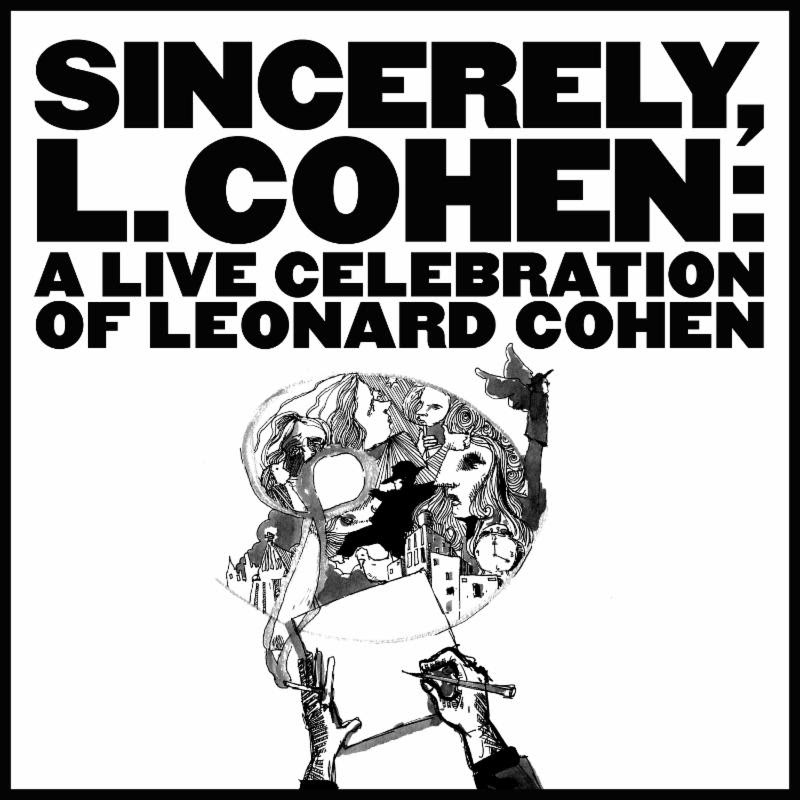 This isn't the first, nor will it be the last tribute of the late poet and musician Leonard Cohen's work. This recording comes from a concert held at the Music Hall in Williamsburg, NY on January 24th 2017. Leonard had only been gone for a few weeks, so this concert was a way for New Yorkers to honor the life and legacy of the man. I think Cohen would have appreciated that the concert was a life celebration rather than a dour affair. Leonard was a humble man. He would have preferred it that way.
Sincerely, L. Cohen is a rather humble affair. I'm sure they could have wrangled some huge name superstars to headline the affair, but instead, it appears to be more of a community wake. To me, the biggest name on the bill is Richard Thompson. His contributions blend well with the contributions of Leslie Mendelson and Elvis Perkins. The songs, not the personalities are the stars.
The tone is set from the opening track, "Hallelujah". This has probably become Cohen's best known song. It's been covered by everyone from John Cale to contestants on the Voice. Delicate Steve turns the well known song into an instrumental showcase for emotive electric guitar. Stripping the words from Cohen's most popular tune showcases the power is in the music as much as the words.
I think Cohen would have smiled at the gender-fuck version of "I'm Your Man" turned in by Holly Miranda and Joan as Police Woman. The women don't change a word. It reminds me of when the Raincoats did the same thing with "Lola" many years ago. It's a simple twist that throws everything into a different light.
Richard Thompson turns in moving versions of "Bird on the Wire" and "Story of Isaac". Thompson is a master of musical story telling, and he wrings the pathos out of the biblical story with voice and spare guitar leads. Richard's son Teddy Thompson also brings a lesser known country song to life with a reading of "Ballad of the Absent Mare".
Lenny Kaye, best known as guitarist for Patti Smith, takes a few moments to remind us that before Leonard was a musician, he was already a well respected novelist and poet. Kaye puts aside the guitars and drums in favor of a reading from Cohen's 1966 book, Beautiful Losers. Thank you Lenny for reminding me that I should delve into Cohen's fiction too.
The show ends with Will Sheff of Okkervil River doing a moving version of "So Long, Marianne". When he's joined by a massive chorus singing, "it's time that we began to laugh and cry and cry and laugh about it all again," that pretty well sums up the spirit of the night. It was a group of friends sending off one of their own. There is sadness, but also joy for the words and music that will continue to inspire for decades to come. As Will says when he finishes the song, "Thanks for the songs, Mr. Cohen."
All proceeds from album sales will go to the Preemptive Love Coalition, a non-profit organization that aids children and families affected by terrorism and other crises in the Middle East across the globe. For more information, visit: www.preemptivelove.org.
---