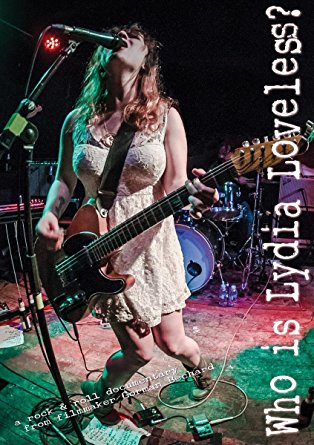 Who Is Lydia Loveless?
Directed by Gorman Bechard
MVD Visual
For someone who admits to being shy and anti-social, who was described in her youth as a "bubbling cauldron of emotions and hormones…", this deeply personal documentary, Who Is Lydia Loveless? must have been nerve-wracking. For a person from rural Ohio, home-schooled on her family farm, Loveless seems to exist almost solely in a world defined by her band, including bassist/husband Ben Lamp, and seems to only truly come alive in the midst of creation, either recording, or as the film gives amble evidence of, in her incendiary live performance. The rest of the time she seems guarded and withdrawn, and you marvel at her (and our) good fortune in finding her band and by extension, her voice.
Because Lydia Loveless is one of the greats. Her soul-baring songwriting, on moments such as the title track from her landmark album, Real, is raw and untamed. Her group – Todd May on guitar, Jay Gasper on guitar and pedal steel, "The Greek", George Hondroulis on drums, and Lamp on electric and upright bass – are at that stage that really good groups achieve, that level beyond tight. Where songs expand as needed, and May's guitar gets tortured nightly and Lamp's upright adds a sonic dimension, a fullness that once heard can't be forgotten. Live, they are a amalgamation of driving punk moments, framed by squalling guitars, but with Loveless' amazing country vocal chops, able to go from full-throated roar to a cracking, cathartic sob in an instant. She doesn't exactly sing such much as she molts, casting off bitter memories and painful desires nightly, an emotional journey, one that she shares in front of a bar full of fans.
Director Gorman Bechard, who directed the definitive look at the Replacements, Color Me Obsessed, captures more than just Loveless and band, he shows what life means to be out there, earning your living night and after night, no insurance, scraping by every month, so when Loveless goes off on streaming services and "fans" who "really love her stuff" but somehow, never paying for it, you understand. Lydia and crew are a fury onstage, and even her solo moments, just a big Gibson guitar and her, are riveting because you know that this exact moment only exists in just this one instant, and tomorrow night you might get angry, pissed off Lydia who storms thru "Boy Crazy" before falling off a speaker and injuring herself. Rock and roll, AF.
You never truly get an answer to Who is Lydia Loveless?, hell she tells you up front she still doesn't know. But her trying to find out is one of our most compelling moments to witness. Lydia Loveless is something special.
---