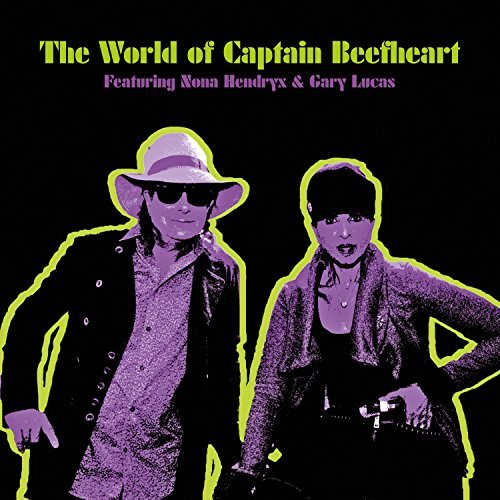 Nona Hendrix and Gary Lucas
The World of Captain Beefheart
Knitting Factory Records
Captain Beefheart was an original. His music combined elements of blues, free jazz, beat poetry, surrealist drama and rock and roll. He was a high school buddy of Frank Zappa and a major influence on bands like XTC, Gang of 4 and Tom Waits. His music has been compared to listening to a ball of rusty barbed wire. He wrapped his gruff voice in angular guitars and fractured rhythms. On his most challenging pieces, it sounded like five people playing different songs at the same time, but it was all composed and scored. He wanted it to sound that way.
For me, Captain Beefheart was a rite of passage in college. It seemed like all the bands we liked raved about Captain Beefheart, so we had to check him out. I was slower to grasp the Captain than my friends. That meant that Jon and Bill would subject me to Trout Mask Replica whenever they could (usually after my ability to object was reduced by things smoked or drank). After repeated immersions, it started to make sense. All those shards of sound fell into place and what originally sounded like noise coalesced into song. Then, I voluntarily sought out the relatively more accessible albums Clear Spot and Lick My Decals Off Baby. By that point, I was a convert and I was the one saying, you gotta listen to this!
The early 1980's were good for Beefheart. The punks spurred renewed interest in his music. Captain Beefheart and the Magic Band played on Saturday Night Live to promote Doc at the Radar Station. The video for the title track to his 1982 album, Ice Cream for Crow was shown at the Museum of Modern Art. And then, just as it appeared the Captain's career was heating up, he walked away. Captain Beefheart retreated to the California desert where he focused on his painting, (which was far more financially rewarding than his music had ever been).
Gary Lucas well placed to keep the legacy of Captain Beefheart alive. He was Don Van Vliet's manager and played guitar with the final version of the Magic Band. He's continued playing Beefheart music with the Magic Band and a jazz influenced group called Fast and Bulbous. Lucas has collaborated with artists as varied as Jeff Buckley, Joan Osborne, John Cale and Nick Cave. He's also written music for films and television.
The genesis of this project was collaboration between, Gary Lucas, soul/funk singer Nona Hendryx and Amsterdam's Metropole Orchestra. That collaboration saw the guitarist and singer augmenting the Metropole Orchestra's symphonic arrangements of Captain Beefheart's music for a performance. Hendryx is an inspired choice. Nona was a member of the soul group LaBelle who had a huge his with Lady Marmalade. As well as being a solo artist, Hendryx collaborated with the industrial jazz band Material and the Talking Heads. The symphonic arrangements are amazing re-imaginings that explore the power and complexity of the music. As interesting as this performance must have been, I'm glad that Lucas and Hendryx brought the project back down to earth. The smaller group really allows them to explore the spirit of Captain Beefheart the poet and bluesman.
The World of Captain Beefheart finds Nona Hendryx finding the pop sensibility that was always in these songs, but often buried in the sonic complexities of the Magic Band. Nona renders I'm Glad as a lush, soul ballad complete with layered vocal harmonies. I always felt that someone could score a hit with some of Beefheart's more sentimental tuned. This version of "I'm Glad" sounds like it should have been on a Labelle album back in the day. "Her Eyes Are A Blue Million Miles" and "My Head is My Only Home Unless It Rains" were also songs I wish had been on the radio. These versions come as close to realizing that fantasy, as I'll ever hear. These tunes exemplify the deep compassion and humanity at the core of the Captain's art.
While I really appreciate that Captain Beefheart could have had fairly normal sounding hits, most of his tunes propelled you into a strange and beautiful alternative reality. "The Smithsonian Institute Blues" rambles on about the dinosaurs down at the LeBrea Tar Pits. "When Big Joan Sets Up" is a love story about a couple that are too fat to go out in the daylight occupy. "Tropical Hot Dog Night" is a mutant calypso party anthem that gets weird when the young girls meet the monster at night. The absurdity, humor and humanity of these songs is seductive.
The spiky and sonically challenging is well represented too. Gary takes center stage for the instrumental, "Suction Prints". This is a fine example of the gorgeous and highly idiosyncratic guitar instrumentals that pop up on most Beefheart albums. "Sugar N Spikes" represents the complex and off-kilter side of Beefheart while "Sun Zoom Spark" and "Sure "Nuff" N Yes I Do" are gloriously fractures blues tunes.
Captain Beefheart left the music world in 1982. Don Van Vliet left this world in 2010 after a long battle with Multiple Sclerosis. The world of art and music lost a true original when he passed, but the work remains. I'm glad that Gary and Nona devoted so much passion and energy to this project. The World of Captain Beefheart is a gift to old fans and a beautiful introduction to potential new converts. I hope that the Captain's legacy will continue to challenge and inspire for decades to come
---