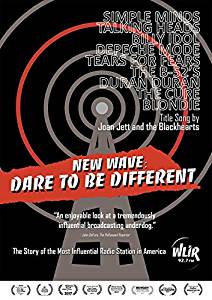 New Wave: Dare To Be Different
directed by Ellen Goldfarb
"It was a lifestyle, WLIR." – Steve Thompson, Music Producer
WLIR was the first stereo FM station from Long Island, New York, established in 1959. In the early 1970s, the Hempstead radio station adopted a progressive rock format and even promoted Southern rock, including groups such as The Marshall Tucker Band and The Allman Brothers Band. Growing up on Long Island with older siblings, I can still vividly recall my big sister's WLIR "Party In The Park" baseball shirt. I sure wish we still had it. It would be just a few years later, on August 2, 1982, that a handful of forward thinking radio pros led by legendary Program Director, Denis McNamara, would take a bold leap of faith, break all the rules and change radio programming forever. Realizing that they could not compete with the bigger stations and tired of the same old music, this tiny station defied all the odds and started a new trend in radio. Director and Long Island native Ellen Goldfarb has done a spectacular job with New Wave: Dare To Be Different, taking viewers on a trip back in time to relive the 80s in all its glory. It is particularly appealing to those of us who grew up right in the thick of it, but anyone who is a fan of 80s new wave and alternative music will love this journey down memory lane, right to the moment it all comes crashing down and the station loses its five-year battle with the FCC to keep its 92.7 FM frequency. The station was running without a license since 1973 when the late Elton Spitzer took control and continued to run on a special temporary authority granted by the FCC. They signed off for the last time on December 17, 1987.
Chock full of behind-the-scenes station footage from the early days as well as interviews with djs, musicians and industry luminaries, this 135-minute documentary truly gives a firsthand look into the hurdles and challenges that the station faced. But it also has some very funny moments. WLIR didn't exactly have the strongest signal and people would have to get very creative to get the station to come in. Donna Donna, Malibu Sue, Larry The Duck – they're all here. Interspersed throughout are images of iconic Long Island clubs where many of these artists played including Oak Beach Inn, The Calderone and My Father's Place, all long gone, although the latter has reopened recently in a new location. Owner Michael "Eppy" Epstein is one of many people interviewed throughout the film.
The music I was hearing was unlike anything I had ever heard before. Here was a station playing American music as well as British imports from bands that no one had ever heard of and no one would play, but with the help of this station many of those bands went on to be huge: The Police, U2, Depeche Mode, The Alarm, Billy Idol, The Cure, The Smiths, Duran Duran, Tears For Fears, Simple Minds, Thompson Twins, The Fixx, INXS, A Flock of Seagulls, Midge Ure/Ultravox, Howard Jones, Yaz, Erasure, General Public, The English Beat, Thomas Dolby, Ramones, Blondie, Joan Jett, The Pretenders, REM, The B-52s, and on and on and on. It was fascinating listening to the many artists reminisce about the early days and their first trips into New York. But the one common thread was their respect and gratitude for WLIR. Every time I watch this I get chills during the U2 segment when it bursts into "I Will Follow." At the very beginning of the film there is a sound bite from a U2 show at Nassau Coliseum, April 3, 1985, and Bono mentions how WLIR was one of the few stations playing their music at the beginning. I was at that show and I recall Bono stopping mid-song because security was beating up a kid who was trying to get on stage. Bono brought him up and finished out the song. I remember I cried. A few years prior in 1981 U2 played Malibu Nightclub in Lido Beach. I was just a few years too young, but I did manage to catch The Alarm there a couple of years later.
"If I had found [W]LIR when I was 13, I would have felt that I had found Disneyland, but it was a radio station." This quote in the film from Sire Records' Seymour Stein could not ring more true. Much of this success can be directly attributed to Denis McNamara. John French of Twisted Sister called him "the Walter Cronkite of rock – if he said you're ok, you're ok," while Joan Jett called him "a music god." It was McNamara who wanted to get his hands on all of the post-punk music coming out of England. "I can remember walking around London literally with these plastic bags eating into my hands full of records because I wouldn't say no." Staffers would even drive out to the airport from the station once a week to meet the plane and get the hot-off-the-presses hand-off of new music. "Off The Boat" was a weekly Sunday night program hosted by Larry The Duck that would feature new imports, while the "Screamer of the Week" was a wildly popular contest that allowed listeners to call in and vote for their favorite new song of the week, each one nominated by a different dj. Not only was it a fierce competition among the djs, but it also helped to sell records and promote bands. If your song was voted "screamer," it was a big deal and you were a hot ticket indeed. I can recall combing through records from my favorite WLIR artists at the local record shops, frantically searching for that one B-Side or rare import that no one else had. The station also did numerous radio contests and gave away records and concert tickets. I was always very lucky and would call in and win tickets to shows. They even had a "WLIR" van – it was always cool to see it driving around town. You felt some special connection when you saw it, as if you were part of a secret club that not everyone "got." I even had a WLIR bumper sticker on my car.
For me, personally, watching this film placed me right back in the early '80s, discovering WLIR as an awkward, insecure teen desperate to find my niche. It was a profoundly pivotal moment in my life. This small, low-budget radio station changed who I was, how I acted and dressed, and how I perceived the world, giving me a new-found self-confidence. Tom Bailey of Thompson Twins summed it up best: "[We were a] magnet for the misfits and the freaks…they saw in us some kind of kindred spirit." I couldn't agree with that more. This film has captured the essence of that time and is a must-see for any fan of 80s music and culture.
---