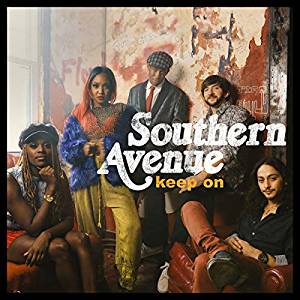 Southern Avenue
Keep On
Concord Records
Hard to believe, but Memphis' finest Southern Avenue have gotten even funkier than their debut from 2017. Built around the powerfully soulful guitar of Ori Naftaly and the divine vocals of Tierinii Jackson, Keep On shows a band mindful of their influences but not beholden to them, with a drive and swagger that bands this young generally can't pull off.
From the opening title cut, to moments such as "Whiskey Love" or Meters-ready "Switchup", Jackson don't take no stuff, her vocals going from a soulful croon to an Aretha get down and back again. "The Tea I Sip", with Naftaly propelling Jackson into some hot and sweaty action that sounds as if Coda-era Zeppelin decided to lay down a few tracks after a liquid night on Beale Street. This shit is fierce, I tell ya. "Too Good For You" slows the tempo down a notch, but the next track, "We Are Not So Different" raises the heat back up into the late Sharon Jones territory. "We've Got The Music", co-written with, and featuring the vocals of Stax pioneer William Bell rides a great horn arrangement that recalls his magical singles of the '60s.
Now, "She Gets Me High", a rather explicit stomper ("wet like wine") that features Naftaly shredding while Jackson sings the praises of a girl on the side that most likely wouldn't have been discussed back in the day of the MGs and Otis Redding, but hell, its 2019 and her risqué testament of lust absolutely fits.
For fans of the southern soul sound from Memphis, to newer acts such as Alabama Shakes or The Black Keys will embrace Southern Avenue's sophomore outing, Keep On. Now, gotta take a shower. Tierinii Jackson gets me all sweaty.
---