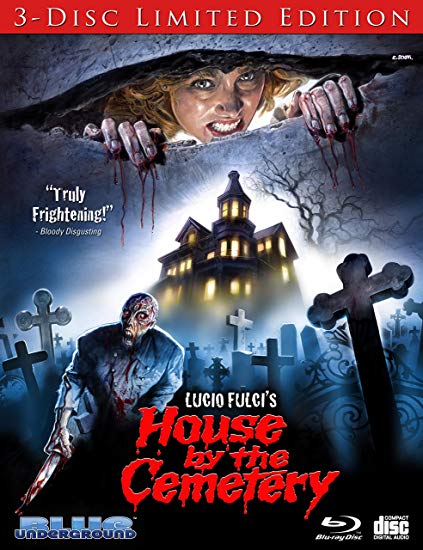 House by the Cemetery
directed by Lucio Fulci
starring Catriona MacColl, Paolo Malco, Ania Pieroni, Giovanni Frezza, Silvia Collatina, Dagmar Lassander
Blue Underground
To a certain breed of film fan, Lucio Fulci is as revered a name as Hitchcock or Welles. Sure, Welles and Hitchcock's films might have featured more comprehensible plots, better acting, and bigger budgets, but these so-called masters never filmed a zombie fighting a shark, so it's about even.
Fulci's 1981's House by the Cemetery might not have shark fighting zombies, it's still a deliciously gory and over-the-top entry to the director's canon. The story focuses on the Boyle family moving from New York City to a house in a small town in New England so the father can better conduct his research on a certain Dr. Freudenstein, a mad doctor rumored to have conducted gruesome human experiments, experiments so grisly that the previous researcher (and resident of the house the Boyles now live in) killed his wife and himself in the house. Luckily, son Bob has a protector in the form of a ghost girl who wants to intervene.
Fulci was on somewhat of a streak at the time, coming off a string of gore classics including City of the Living Dead, The Beyond, and Zombi. House by the Cemetery might be a bit more plot heavy than these films, but there are still stretches of dream-like logic that first-timers might not appreciate. Of course, there is gore. limbs are sliced, heads are decapitated, knives go thorough throats, and maggot-filled wounds are all lovingly shown. Part gothic horror story, part Lovecraftian tale, with bits of influence from The Shining, Poltergeist, and The Amityville Horror, House by the Cemetery is a glorious dream-like splatter film that has never looked better than in Blue Underground's new three disc set. The picture is crisp and clear, leaps and bounds over previous editions, and miles away from the grimy VHS copies that many viewers first saw it on. The second disc is loaded with deleted scenes and interviews with just about everyone connected with the movie. If that weren't enough, the third disc includes Fabio Frizzi's complete piano-and synthesizer heavy score, which is sufficiently creepy enough to make it worth picking up on it's own.
Sophisticated gorehounds will no doubt appreciate the care that has been put into this release, and while newcomers might have some plot and pacing questions, it would be a good example of Italian horror of just what the fuss was about '80s Italian horror.
---