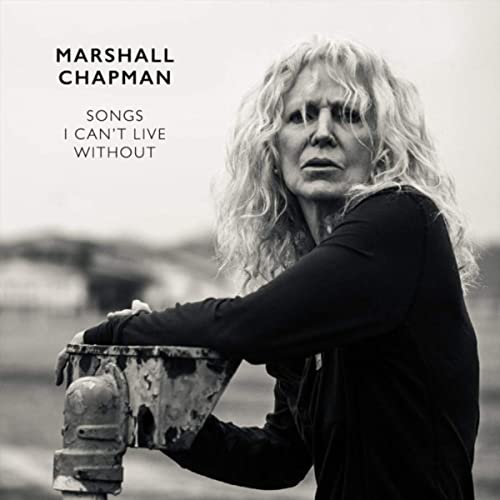 Marshall Chapman
Songs I Can't Live Without
TallGirl Records
Songwriters do cover albums for a variety of reasons – lack of material, contractual obligations – but I suspect neither is the reason for Marshall Chapman's Songs I Can't Live Without. First, she's been creating records since the late '70s (starting with Me, I'm Feelin' Free from 1977) up to 2013's masterful Blaze of Glory. And she owns her own label -TallGirl Records, so that's out. No, sometimes they just want to share their inspirations and give you a glimpse as to what motivates their work.
The result, in Chapman's case, are 9 cuts that show her varied influences. Beginning with a majestic "Tower of Song" from Leonard Cohen, which sets the stage for the record – "I'm just paying my rent every day in the tower of song". Some of her favorites seem close to home, such as Bobby Charles' "Tennessee Blues" or "I Still Miss Someone", the Johnny Cash classic. Others draw from her younger days, such as the Carole King/ Gerry Goffin "Will You Still Love Me Tomorrow" or even further back, such as "I Fall In Love Too Easily", which was a hit for Frank Sinatra in 1956. Her version of "Turn the Page" proves the old adage that states there aren't any bad songs, just bad versions, because her treatment is affecting in a way that Bob Seger's original wasn't.
Chapman is backed with the same musicians that made Blaze of Glory such a success, with Neilson Hubbard on drums, Dan Mitchell on keys, and one of Nashville's most valuable players, Will Kimbrough on guitar. Kimbrough has honed his style to the point where less is more – a spooky slide lick here, a subtle chord progression on "Don't Be Cruel" for example, and overall the mood of the record is haunting and personal, and by the time the final cut, "He's Got The Whole World In His Hands" fades, you feel you've been on a journey with Marshall Chapman, and a better person for it. Stellar.
---