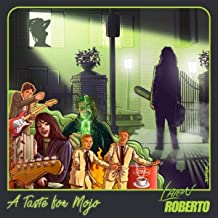 Laion Roberto
A Taste for Mojo
Laion Roberto is back on the scene with yet another fantastic new EP release: A Taste for Mojo. This release seamlessly combines the sophistication of jazz with the energy of rock music, going for a distinctive and a one-of-a-kind feel.
The EP features 5 songs, including the stunning opening number "Ego Is A Too Much Thing." This track sets the mood for the rest of this release, going for an energetic, yet highly nuanced sound with a lot of dynamics. "Kinky Boogie" is a playful and sultry track, combining fast-paced, hard-rocking riffs with a larger-than-life ambiance that reminds of the '80s blues-rock scene. Later, the record takes another turn with "The City Is Burning Down." Following an epic drums/guitar intro, the song truly takes flight, reminiscent of iconic artists such as Van Halen, Stone Temple Pilots or Guns 'N' Roses, only to mention but a few.
"America's Calling Moose the Mooche" is a riff-driven song, which makes me think of artists such as Joe Satriani or Steve Vai, with some tasteful licks and edgy arrangements. Last, but definitely not least, "Bach Sonata 1001 Presto" is quintessential guitar virtuoso epicness, reminiscent of artists such as Yngwe Malmsteen. This song combines the baroque techniques of classical phrasings along with the fury and grit of metal music. All in all, I would definitely recommend listening to this release if you are a fan of solid, larger-than-life guitar-based rock music and instrumentals as well. This record brings back the authentic sound of the genre, but it does not necessarily feel like a nostalgia act. On the contrary, it has a modern, edgy tone with a fun and lively twist!
---