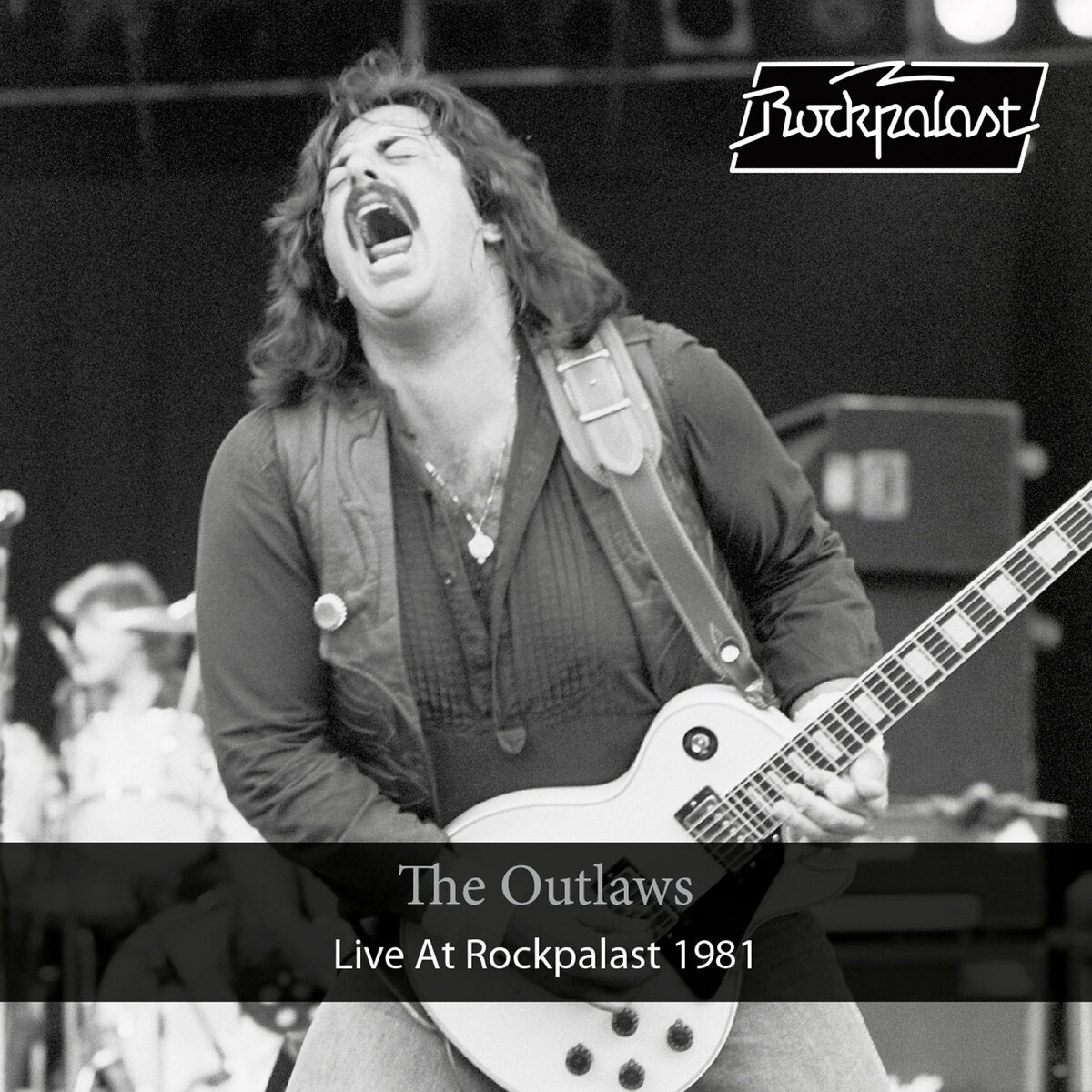 The Outlaws
Live at Rockpalast 1981
MIG
The joint was packed. Some might contend that it had become too packed. But while Gregg and Ronnie's respective crews consumed most of the oxygen in that over-cramped clubhouse, many others managed to survive – even thrive during the glorious southern rock era of the 1970s. Among the most prominent – the fiddle-fueled Charlie Daniels Band, the boogie-based Molly Hatchet, the hard-hitting Blackfoot, the hell-raising Black Oak Arkansas and the ever-faithful Marshall Tucker Band. And of those leading contenders, it can be argued that the mightiest force on the scene was Tampa, Florida's own harmony-heavy, chicken-pickin' "Guitar Army" – the Outlaws.
Led by the co-founding dynamic duo of guitar-slinging singer / songwriters, Hughie Thomasson and Billy Jones, the Outlaws had scored a slew of chart-busting LPs and a host of FM-friendly singles since striking gold with their self-titled 1975 debut. The massive success of their 1978 double-record set, Bring it Back Alive established the band further as a major concert act.
By the summer of 1981, the Outlaws still were riding high. Their (then) current album, Ghost Riders, was nestled on the Billboard Top 30 and its single, "(Ghost) Riders in the Sky," was perched on Casey's Top 40. And on a steamy day in August, the band played at the legendary Lorelei in Germany, as the opening act for veteran hard rockers, Thin Lizzy. Now, fans worldwide finally can experience that famed performance with the release of Live at Rockpalast 1981.
Thomasson and Jones are joined by perennial guitarist Freddie Salem and drummer David Dix, along with recently recruited bassist Rick Cua for a blistering 60-minute set – a southern-friend onslaught – one that showcases the band's classic songs, signature-style vocals, and nearly non-stop guitar battles. "(Ghost) Riders in the Sky" and the 20-minute rendition of "Green Grass and High Tides" are prime examples of the latter.
However, the Outlaws were a fast-living rock band, back when rock bands played live. As a result, their performance might indicate that a whiskey-soaked all-nighter might not have been the best warm-up coming into such a high profile gig. At times, even the audio mix suggests that the soundman probably shouldn't have participated in the previous night's soiree either. But the set DOES scream street cred and authenticity throughout the DVD and companion CD. And for drummers, Dix's performance is simply superb.
In his personal liner notes, guitarist Freddie Salem recalls, "After playing in thousands of shows for thousands of people, Lorelei, Germany and the Rockpalast concert will always remain a wonderful and ongoing memory in our career!"
In sum, despite a few beautiful blemishes, for die-hard southern rock enthusiasts, Live at Rockpalast 1981 is well worth checking out.
TRACK LIST
1. Devil's Road (5:49)
2. Hurry Sundown (4:57)
3. Holiday (4:42)
4. Long Gone (4:00)
5. Angels Hide (6:33)
6. Waterhole (2:20)
7. There Goes Another Love Song (3:41)
8. Green Grass and High Tides (20:07)
9. (Ghost) Riders in the Sky (8:47)
---