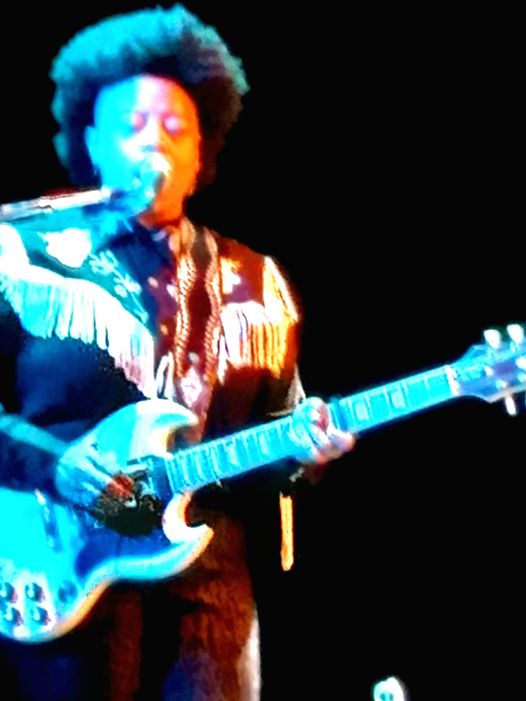 Amythyst Kiah
Jaeb Theater at the Straz Center • Tampa, Florida • May 27, 2022
by Bob Pomeroy
Why isn't Amythyst Kiah better known? Her live show at the Jaeb Theatre in Tampa was a revelation.
Amythyst is a powerful singer, well versed in blues, rock, and folk traditions. She writes compelling original material. Her song "Black Like Me" was a standout track on the Songs of Our Native Daughters album with Rhiannon Giddens and Leyla McCalla. She recorded her own version of the song, which is now her community radio hit. "Hangover Blues" is something anyone who partied too hard will relate to.
One of her originals sent shivers down my spine. "Wild Turkey" is a meditation on the loss of her mother. Amythyst sings about trying to act like the death didn't mean anything to her. She confesses to spending years trying to be an automaton. The chorus, "She's never coming back, She's never coming back, How will I ever be right again," cuts to the bone.
Amythyst showed that she's also a skilled interpreter of other people's songs. She did a great version of Vera Hall's "Trouble So Hard" (better known for being sampled by Moby). More surprising was her interpretation of "Love Will Tear Us Apart." Amythyst takes the post-punk anthem to alienation and reimagines it as a Richard Thompson lament.
Judging by the long line at the merch table after the show, I wasn't the only one moved by Amythyst's performance. Once you experience her in a live setting, you're going to want to hold on to that memory and give testimonial to your friends. When Amythyst returns to your town, don't miss her.
---