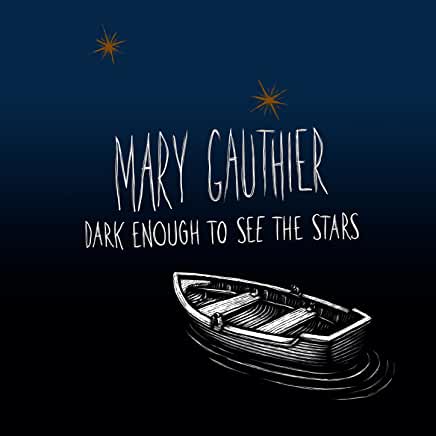 Mary Gauthier
Dark Enough To See The Stars
In The Black Records
The last few years have exacted a toll upon all of us. From the pandemic to the presidency, we've all dealt with physical, mental, and psychic losses that we may never recover fully from. We all grieve in our own way, either collectively or alone. But few, I suspect, have faced it as eloquently as Mary Gauthier has on her new record, Dark Enough To See The Stars.
For her tenth studio album, Gauthier comes to grips with loss (of John Prine, et al.) and abandonment by creating art. For those who have read her 2021 book Saved By A Song: The Art And Healing Power of Songwriting, you understand this is how she copes—not by drinking or self-medicating (she's been thankfully sober for years now)—but rather by getting her guitar and a pad of paper and letting the tears become words. From the emotive title track (written with Beth Nielson Chapman), to "How Could You Be Gone" or "Where Are You Now," Gauthier attempts to make sense of a "Fall Apart World" (the opening cut). She succeeds brilliantly.
Produced by Neilson Hubbard, the album has a true Dylan and The Band feel, with the keyboards of Danny Mitchell melding with the guitar of Juan Solorzano to create a Planet Waves vibe. Gauthier has always brought to her songs a sense of mystery and depth, and from her records you get a true Louisiana feel (where Mary was born as an orphan in New Orleans). And before you think this release is nothing but hard songs, she gives us a way out with moments such as "Amsterdam" or "Thank God For You."
I received this record months ago, and I was only able to get through about half of it in one sitting. The disc is so compelling, so artfully done, that some moments will leave you gasping for breath, on the verge of tears. In case you hadn't realized over the years, Mary Gauthier is a true genius. She is able to put down in a song what most of us are unable to articulate or even confront. Dark Enough To See The Stars is probably my favorite record of hers, but not one I'll spin for pleasure—that would be 2014's Trouble And Love—but whenever I need to affirm that someone out there knows my (and most likely yours, as well) 3 a.m. pain, doubt, and fears, this will be where I turn. Thank you Mary Gauthier. This embattled world needs you.
---