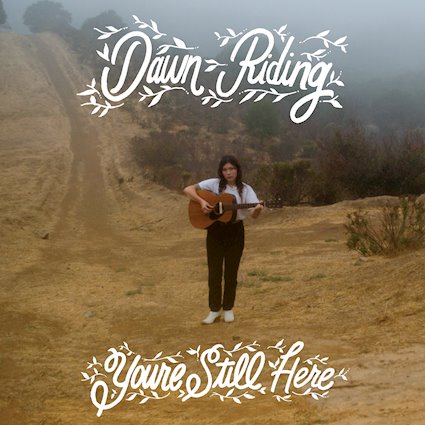 Dawn Riding
You're Still Here
The Long Road Society and Speakeasy Studios SF
There's a bit of confusion about this excellent singer songwriter. You're Still Here is the title of this disc and Dawn Riding is the semi-pseudonym of composer and singer Sarah Rose Janko. I have little insight into the details of the title here, so let's just consider this a classic-sounding country album.
The opening track talks about the singer's father. When he sat in jail as his wife died, he got a jailhouse tattoo that said "Mama Tried." It's hard to conceive of a line more country than that, even if it's snagged from Merle Haggard. The song is a slow ballad, soft and sad and offering no happy ending. The vocals are pure backwoods gospel choir trained and a joy to listens to.
I cruised though a few more tracks, each sadder than the last. My raft of sorrow floats along, only bouncing off "Change in Tide." It's another love song, sad and slow and mournful as a wake. A steel guitar lurks discreetly in the back, a drummer slowly keeps time as the sorrow flows. A Mexican trumpet punctuates the dark, yet the sorrows only multiply and time won't turn back. I'm weeping and I still don't know the details. A person can only take so much of this, and I'm relieved to hear the closer. "Luck Run Out" takes us to a bar, but alcohol is neither the solution nor a placebo. It's just a drain of cash and emotion and love. Joy still drips out the bottle of sorrows this woman carries in her saddle bag. The album floods us with the regrets of a dark morning after.
Last night wasn't really any fun, tomorrow only brings despair, and the sun will set and rise in an other unhappy relationship you want back, even as you know that it will only get worse.
---