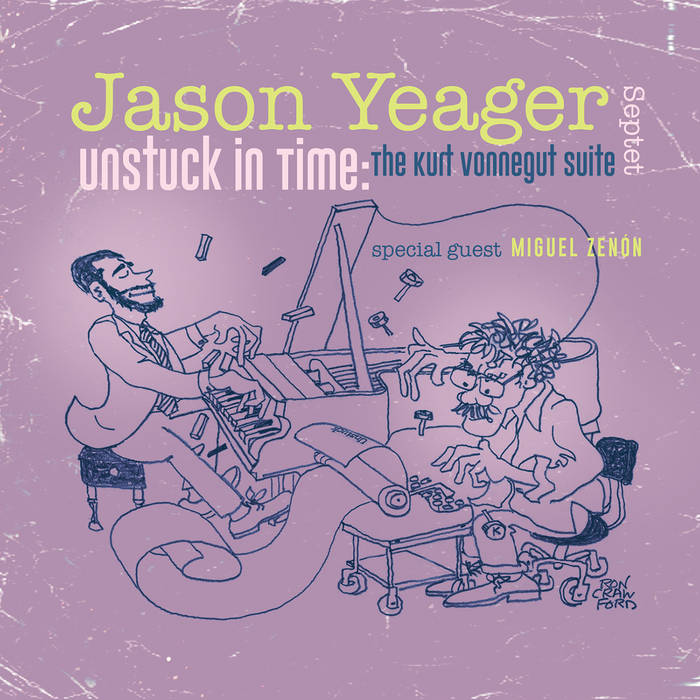 Jason Yeager Septet
Unstuck in Time: The Kurt Vonnegut Suite
Sunnyside Records
Pianist Jason Yeager has been writing songs inspired by characters and places in Kurt Vonnegut novels and stories for about ten years. He began this journey with what he thought would be a one-off tune for a session date, "Blues for Billy Pilgrim." Billy Pilgrim is the protagonist of Slaughterhouse Five, an American soldier who survives the fire bombing of Dresden (as Vonnegut did in real life) and becomes unstuck in time, living his past, present, and future in random order. Over the years, more characters demanded their own musical incarnations. Eventually, Yeager realized that these originally random songs fit together as a larger work, a suite paying homage to Kurt Vonnegut.
Yeager's compositions on Unstuck in Time: The Kurt Vonnegut Suite have an unstuck-in-time quality. He clearly draws inspiration from the bebop and big band eras, as they have a playful, post-modern tilt. "Blues for Old Salo," a dreamy piece featuring piano and vibraphone, inspired by a machine creature from Tralfamadore looking for a friend on a moon of Saturn. "Kilgore's Creed" is a loose, freewheeling ramble inspired by Kilgore Trout, the fictional science fiction writer who appears repeatedly in Vonnegut's work.
There is one composition that's a bit of an outlier. "So it Goes" is a phrase Vonnegut was fond of using. The song resembles the "word jazz" of Ken Nordine. The piece has assorted voices repeating, "so it goes," in a variety of inflections, mirroring the way Vonnegut used the phrase to sum up a range of emotions.
Unstuck in Time was released on November 11, 2022, to coincide with Vonnegut's Centennial. The album release event was held at the Vonnegut Library and Museum in Indianapolis. Kurt's daughter Edith said her dad would have liked the music. I think you will, too.
So it goes.
[Jason Yeager](www.jasonyeager.com)
---