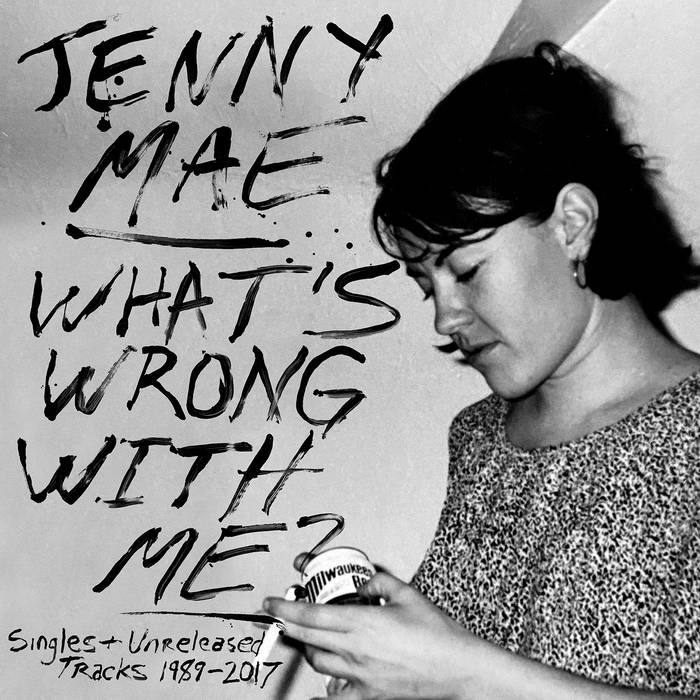 Love, Death & Photosynthesis / What's Wrong With Me
Bela Koe-Krompecher / Jenny Mae
by Carl F. Gauze
Here's a rather involved product that consists of a full length record entitled What's Wrong with Me? Singles and Unreleased Tracks and a novel, Love, Death & Photosynthesis, detailing the interesting if sad story of a young lady in Columbus, Ohio in the waning days of the punk movement from 1989 to 2007.
Our protagonist is the young Jenny Mae Leffel, a latchkey kid who makes compelling music ignored by just about everyone in her small town. Ok, Columbus isn't that small, but it isn't the best place to make it singing sad, mopey songs and playing gigs in semi-abandoned basements on the sketchy side of town. The music on What's Wrong with Me? is simple and straightforward, with Jenny as the singer along with a guitar or drum kit for support and little else.
It's all very minimal, very sad, and mostly played in basements. It is literally an underground scene. The tracks are emotionally raw, titles announce shocking news like "He Don't Care About You," "Big Scary Face," and "Not Another Bad Year." The emotional mystery rises to the low-hanging rafters, and Jenny Mae can't decide to sink or swim, until she sinks herself.
Punk is what you make of it, and all the action wasn't in New York or London. Like any musical fad from disco to hip hop, it started small and grew until something newer came along. Punk eventually made it to Columbus, Ohio, but it was long after Johnny and Joey made their mark and made their exits, metaphorically or actually. The rise of anarchy echoed in the sticks for a long time, and adapted to the problems of that arena. What's distilled in Love, Death & Photosynthesis is less a musical moment than a coming of age tale about Jenny and her friends hanging on in a dying Midwestern industrial city.
"No Future" was a clear call to the actuality of small-town rust belt life. That story I find more compelling than the music. The book is packed with the tales of Jenny and her friends swindling fast food joints, working out the kinks of homelessness, and trying to get high or drunk alone or at least among friends. One of my favorite scenes appears early in the book, when Jenny and a friend are on a drive across country and she wants McDonald's, an expenditure that would leave them 10 miles short on gas. Her boyfriend concocts a story to act out in front of the MacDonald's order box about having a back seat full of starving children. The MacDonald's crew falls for it and gives them double rations, only to discover it's their friends in the drive-through window. Comic gold, and possibly a great short film.
If this sounds a bit scattershot, it is, and that captures the scattershot life hands to Jenny. You've led this life yourself, or you have dodged a rough bullet in your own life.
---